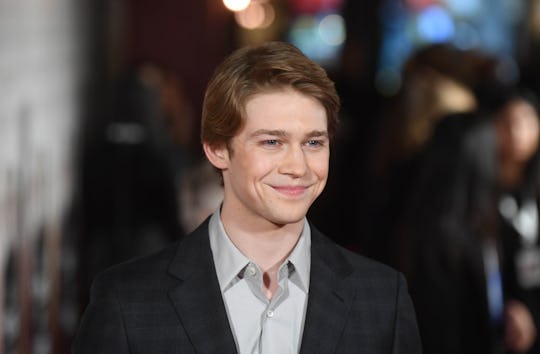 Stuart C. Wilson/Getty Images Entertainment/Getty Images
These Theories About "So It Goes" Prove It's Totally About Joe Alwyn
The day has come: Taylor Swift's new album, Reputation, is out in the world, and its tracks of course include what fans interpret as numerous references to various figures in Swift's personal universe — friends, former friends, exes, and, it would seem, her current flame. According to Swifties, their theories about "So It Goes" prove it's about Joe Alwyn. For the unfamiliar, Alwyn is a 26-year-old British actor who rose to some acclaim for his role in Ang Lee's war film Billy Lynn's Long Halftime Walk. In May People reported that Swift and Alwyn are an item.
When Reputation was released at 12 a.m. Friday morning, fans immediately began listing their favorite tracks, and while "So It Goes" was not at the top of many lists, fans were clearly into it, not least because the lyrics are pret-ty steamy. Just check out the chorus, courtesy of Genius:
And all our pieces fall
Right into place
Get caught up in a moment
Lipstick on your face
So it goes…
I'm yours to keep
And I'm yours to lose
You know I'm not a bad girl, but I
Do bad things with you
and then this bit:
Come here, dressed in black now
So, so, so it goes
Scratches down your back now
So, so, so it goes
So who is the you in all that "your"? The resounding answer on Twitter and various sites is Joe Alwyn, but that conclusion is not random. Fans have their reasons, from an overall structural analysis of the album to the observation that this song is clearly about someone Swift is currently into to the theory that the song finally reveals how Swift and Alwyn got together. Let's look at each:
The Album Has Two Themes, & Alwyn Is One Of Them
Through its title and its first tracks, Swift has positioned Reputation as a repudiation of all of the criticism she has received — for allegedly playing the victim, for having a "shocked face," for the many iterations of the Kimye feud. The first single she released from the album, "Look What You Made Me Do," and its music video basically held up all of those critiques and controversies and mocked them.
But after "Look What You Made Me Do," the focus of the album seems to shift. The songs become more romantic, clearly focused on a love interest. We can't know for sure if they're all about the same person, but since Swift is reportedly dating Alwyn, to think that the second half is about him, from "So It Goes" to "Dress" on through.
It's About Alwyn Because It's About Sexy Sex
Again, given the lyrics, it is not unreasonable for everyone to surmise that "So It Goes" is about someone that Swift has, um, positive feelings about, and that, since he and Swift are dating, that person would be Joe Alwyn.
"So It Goes" Reveals How Swift & Alwyn Met
Over at Bustle, Taylor Maple hypothesizes that "So It Goes" actually tells us how Swift and Alwyn got together: in a bar. The second verse begins:
Met you in a bar
All eyes on me, your illusionist
All eyes on us
As Maple notes, Swift has kept this relationship particularly private. There are precious few details available about their relationship at all, so this theory is totally uncorroborated and somewhat defies belief. Could one of the world's biggest celebrities meet someone at a bar? Maybe at a private party held at a bar, perhaps, maybe. But sure, technically that's meeting at a bar. Taylor Swift and Joe Alwyn: they're just like us.
Check out Romper's new video series, Romper's Doula Diaries:
Watch full episodes of Romper's Doula Diaries on Facebook Watch.