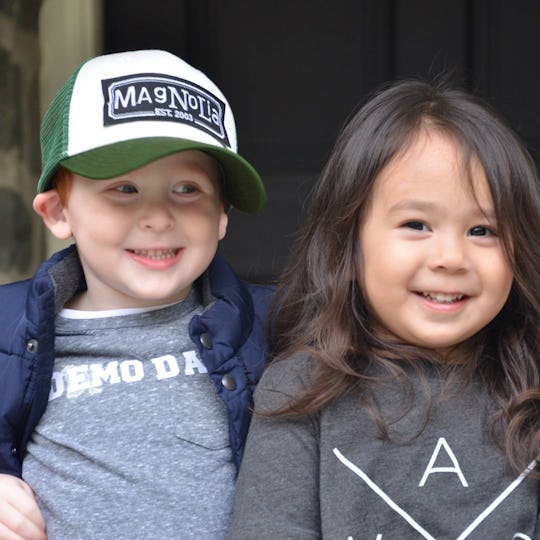 Courtesy of Eumy Rha Frenkel
These Toddlers' Chip & Joanna Gaines Halloween Costumes Are EVERYTHING
If you're a fan of Fixer Upper, you may find yourself with the sudden urge to fix up costumes just like these for your children. With Halloween around the corner, photos of a pair of toddlers dressed as Chip and Joanna Gaines for Halloween from last year are suddenly going viral. And not only do the kids freakishly resemble the HGTV power couple, but they are also best friends in real life.
New Jersey mom Eumy Rha Frenkel shared the photos of her daughter, Sydney, and Sydney's BFF, Ryan, dressed as Joanna and Chip to Facebook last October, as PopSugar reported. Both kids are turning 4 years old later this fall. People from all over the internet quickly flooded the Facebook album with comments marveling in how adorable and creative the costumes were. On Monday, Romper spoke with Frenkel via email to learn more about the costumes, as well as Sydney and Ryan's adorable friendship.
When Ryan's parents (Alex and Justin Freeman) and Frenkel first watched Fixer Upper, they all remarked how similar Sydney and Ryan looked to Chip and Joanna, Frenkel tells Romper. Not only did their kids resemble the reality stars to a T, but they are also inseparable in real life, making a partner costume a natural choice.
"They met when they were 6 months old at a local Gymboree," Frenkel writes to Romper. "But now they are in preschool together. They were in the same class last year, but they were so dependent on each other that they had to be separated this year!" (Side note: My best friend and I also met in Gymboree when we were babies, so I am experiencing all the feels right now.)
So, the besties' parents set out to recreate Chip and Joanna's look for Halloween. "We thought Chip and Joanna were the perfect costumes for them," Frenkel tells Romper. The costumes are filled with Chip and Joanna specifics, including Sydney's Waco, Texas T-shirt that Joanna often wears, Ryan's Chip-style trucker hat that reads "Magnolia" (the couple's business), and his "Demo Dad" T-shirt. To achieve the looks, Frenkel says, "We sort of put together the outfit. The only thing that was official was the Magnolia patch on Ryan's hat."
Even though the kids are no longer in the same preschool class, it's clear that they are still inseparable ."The kids truly act like [an] old married couple," Frenkel told Parents in an interview. "They light up when they see each other and bicker like husband and wife."
Not to mention, Sydney and Ryan already have matching costumes picked out for Halloween 2018 — and they even included their little siblings this time around. Ryan and Sydney are dressing up as Fred and Wilma Flintstone, and their younger siblings are taking on Bam Bam and Pebbles. Frenkel sent Romper an early look at the kids' upcoming Halloween costumes, and I can barely handle the cuteness!
Sydney and Ryan's friendship is so heartwarming, and I already can't wait to see what they come up with next Halloween!