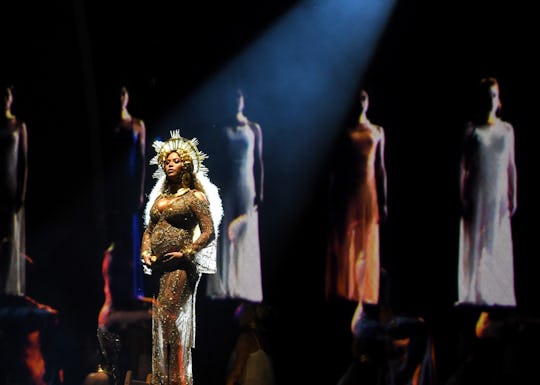 Kevork Djansezian/Getty Images Entertainment/Getty Images
These Tweets About Sir Carter Will Make You Laugh
On Friday, Beyoncé and JAY-Z's company reportedly filed trademark documents for the names Rumi Carter and Sir Carter, giving the internet a pretty huge hint about what the Carter twins' names might be. And of course, like every celebrity baby name out there, the names got some pretty strong reactions from the public, ranging from adoration to confusion to downright hatred. These tweets about "Sir Carter," however, will definitely make you laugh whether you love the name or hate it.
Romper reached out to Beyoncé's representative about the names, but did not hear back immediately. According to TMZ, however, BGK Trademark Holdings recently filed paperwork to trademark the two names. The trademark registration could just be a way to throw media off and give the Carters some well-deserved peace for a while, but fans on Twitter are taking the news as confirmation enough that the Carter twins have been named. And of course, fans have all kinds of opinions to share about Beyoncé and JAY-Z's name choices.
Rumi, of course, is the name of a Persian poet who was born in 1207 but who remains popular around the world today, while Sir is a term of respect (and also the Queen-given title conferred upon a knight). We won't know for sure if Beyoncé and JAY-Z named their twins Sir and Rumi until they confirm the news, but in the meantime, we can definitely enjoy some funny tweets about the names.
The Carter twins were reportedly born a couple of weeks ago in a Los Angeles hospital, but so far, JAY-Z and Beyoncé have remained tight-lipped about the new additions to their family. The secrecy around the babies' names has kept fans guessing, and before the trademark paperwork was filed, many believed the twins' names would be announced as Bea and Shawn Jr.
Beyoncé announced her pregnancy back in February, sharing a gorgeous baby bump photo that broke the internet (seriously, it collected a record-breaking 6.4 million likes in under eight hours) and writing:
We would like to share our love and happiness. We have been blessed two times over. We are incredibly grateful that our family will be growing by two, and we thank you for your well wishes.
It sounds like we might just know those two blessings' names now. And regardless of whether the twins are actually named Sir and Rumi or Bea and Shawn or anything other combination of monikers, the world is going to love them all the same.