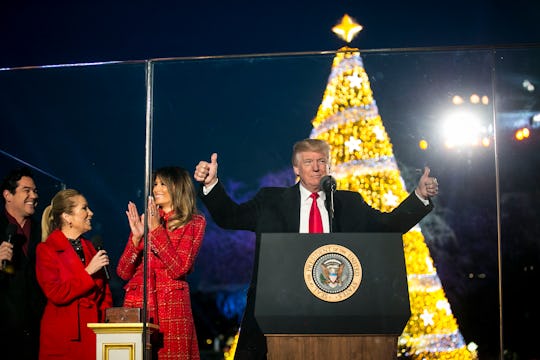 Pool/Getty Images News/Getty Images
These Tweets About Trump's Christmas Tree-Lighting Point To A Recurring Theme Of Empty Seats
It's officially the Christmas season. How do I know this? Parents are madly dashing through malls, trying to find whatever impossible-to-find toy is the hottest thing around this year for their dear little ones. All of my neighbors have wreaths on their door, and I'm starting to feel guilty that I don't (guilt, another sure sign of the Christmas season). Oh yes, and the White House had its annual National Christmas tree lighting ceremony. It was the first for President Trump and it was... interesting. If these tweets about Trump's Christmas tree lighting ceremony are to be believed, it seems it wasn't exactly a standing-room only event.
Trump and his wife, First Lady Melania Trump, presided over the annual National Christmas Tree lighting (this year it was decorated in gold, naturally). The lighting of the National Christmas tree is an old tradition, dating back almost 100 years to the days of President Calvin Coolidge, according to History.com. In 1923, Coolidge had a 48-foot balsam fir brought in from his home state of Vermont to be decorated with 2,500 green and red bulbs; the first time in history the community tree was decorated with electric lights. Coolidge invited choirs to sing carols and the U.S. Marine band to play. It was a well-attended, happy event that began a long-standing tradition in Washington; since the days of Coolidge, every president has overseen the lighting of the National Christmas Tree.
Some, it seems, have had more success than others.
While the event is usually a huge hit, in 2017 it was a sea of empty seats.
Now to be perfectly fair to the president, the event was well planned. It was co-hosted by Kathie-Lee Gifford and Dean Cain, and featured performances by the Beach Boys, Wynonna Judd, Mannheim Steamroller, and more. Trump invited Melania, who wore a festive red overcoat, to help him with the tree lighting. He even let her press the button.
We want to wish everybody a Merry Christmas, a Happy New Year, have unbelievable holidays, and we are now going to light a very beautiful tree. And I'll ask our first lady to get ready and maybe we'll do a countdown from 10.
Also, as Trump noted in his speech, his entire family was in attendance, according to Cosmopolitan:
On behalf of Melania, myself, Barron, all of my children, all of my grandchildren—they're here with us tonight—I want to thank you, God bless you, and God bless the United States of America. Thank you very much, merry Christmas, everybody.
Unfortunately, Trump's family wasn't quite enough to fill all of those empty seats. And Twitter obviously paid close attention.
Many noticed the massive difference between President Obama's Christmas tree lighting ceremony from 2016, which was apparently packed with people.
Of course, these are just photos. The original photo of empty seats was taken by ABC weather man Scott Rudin, who told his followers that the photo was taken at 5:30 PM, but that seats did not fill up once the ceremony began. Rudin also noted that the weather was especially lovely, so that would not have necessarily kept the crowds away.
The comparison photos between Obama's tree lighting and Trump's tree lighting reminded some social media users of the fabled inauguration crowd comparisons; Both of Obama's inauguration ceremonies drew crowds of at least one million people, according to NY Mag, while Trump's inauguration drew a paltry 250,000. Not that he would admit it, of course.
The small number of attendees might not actually be Trump's fault; according to the National Park Service, tickets are raffled off and not everyone who wins the raffle might live in the D.C. area, meaning empty seats are actually not that uncommon at the National Tree Ceremony.
Still... it is a little funny, no?
Check out Romper's new video series, Romper's Doula Diaries:
Watch full episodes of Romper's Doula Diaries on Facebook Watch.