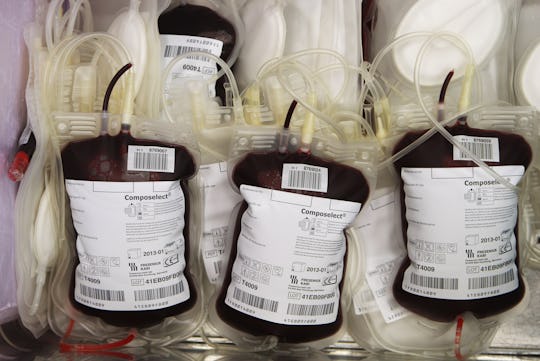 Joern Pollex/Getty Images News/Getty Images
These Tweets Show The One Problem With Blood Donations Following The Orlando Shooting
Following the terror attack at Orlando gay nightclub Pulse, which led to the deaths of over 50 people, there was one much-needed hopeful sight — the hoards of people rushing to donate blood to Orlando victims as soon as a call was put out for donors following the shooting. (There are currently over 50 wounded in the hospital awaiting treatment.) But that image also brought about conversation surrounding an infuriating reality of blood donation: the fact that gay men cannot donate blood.
(Update: The FBI has updated the death toll to 49 victims. The shooter was also killed.)
That is, if they have been sexually active in the last year. Still, the antiquated FDA rule is a disappointing one — especially since it's relatively new. Back in December, the new measure was put in place by the FDA to replace an even more ridiculous recommendation that "men who have sex with men (MSM) be indefinitely deferred" from donating blood. That rule was put in place in 1983, when HIV testing was still difficult, new, and evolving. Still, permitting gay men to donate only if they have been celibate for a year? Some have called it a homophobia-fueled measure, especially considering science now allows for fast testing of diseases like HIV. And because, you know, straight people can get HIV too. As Slate wrote in November 2014:
A straight person who had sex with a prostitute or used IV drugs can give blood one year later. So, too, can a straight person who had sex with an HIV-positive opposite-sex partner. Straight people who enjoy frequent unprotected sex with a rotating cast of anonymous partners? No waiting period at all. A gay man in a decades-long monogamous relationship, however, is currently barred for life. Under the new rule, gay men would be placed in the same category as drug users and once-a-year prostitute enthusiasts. They could donate blood so long as they haven't had sex in a year—even if it's with their husband.
Still, the no-donating-if-you've-had-sex-in-one-year recommendation is still one donation centers have to heed. Reports circulated that the desperate need for blood meant the guidelines were lifted, but One Blood tweeted that those reports were false.
Still, so many people have showed up to donate blood in the area that the Orlando Sentinel reports that blood banks have reached capacity, recommending that people return in the days following the shooting. But, still, the tragedy has illustrated another problem — the fact that gay men cannot help other gay men when they are in need. And many head to Twitter to express their frustrations surrounding that very fact.
The Orlando shootings have proved that a lot of rules have to be changed in the U.S. Here's hoping everyone is listening.