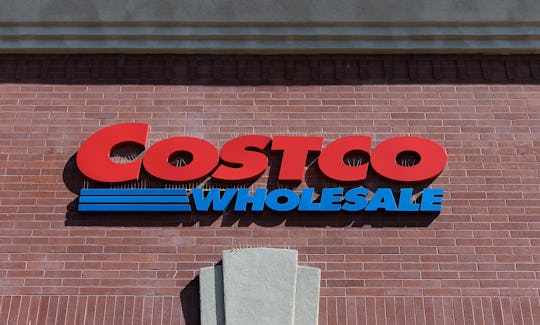 Kevork Djansezian/Getty Images News/Getty Images
Costco's 5-Pound 'Holiday Spice' Cheesecake Is Here, So Say Goodbye To Pie
Dear sweet baby unicorns in heaven do I love cheesecake. The creamy, sweet-tart goodness that coats the tongue and lingers is one of life's true, simple joys. I also love Costco with an almost feverish desperation. I could spend hours just wandering the aisles, buying cases of food that I'm not certain my family will finish, but am absolutely sure we need. And if you've never had a Costco cake? You're missing out. They're perfect. When they do something, they do it well, and they do it big. And now, they have a five pound cheesecake that combines my two favorite things: sweets and Costco shopping.
The cheesecake was first spotted by the intrepid shoppers of the super-popular Instagram account, Costco Deals, and it started a feeding frenzy — pun intended. For just $15, you get five pounds of Holiday Spice Cheesecake with delicate whipped topping and a graham cracker crust. The cheesecake itself is made with sweet potato, pumpkin, warm spices and brown sugar, because if it's Costco, it's going to be extra. But beware: It's sold in the refrigerated section, so it's not going to last as long as their frozen varieties. Buy it only when you plan on eating it.
For years, Costco has been improving their desserts game. They were already well-known for their birthday cakes and cookies when their enormous $6 pumpkin pies and $15 tiramisus hit the scene. Having sampled all of these things, I will tell you, there's not a bad pick in the bunch. In the spring time, they have a luscious berry cheesecake that is so good you'll gladly trade jeans for stretchy pants just so you can eat that extra slice. I imagine this spiced cheesecake will fall along the same lines.
This is a bit of a problem for me, because today is my Costco shopping day. I was planning on going there, putting on my blinders, and sticking to just what I need. Now, however, I must taste this autumnal bit of magic for myself. Not that my husband will mind. Nope, he'll be right there with me, eating a slice after our babies are in bed for the night. Because, if there's one thing you can bet on when you have kids, it's that they will hijack your desserts. Waiting to eat them at 10 p.m. is really the only way.
Think of all you could do with this five pound cheesecake behemoth from Costco. Cheesecake is a really easily manipulated dessert. One of my favorite things to do with leftover cheesecake (it does occasionally happen) is to turn it into cheesecake truffles. They're so simple. You just use a cookie scoop, scoop out some cheesecake, roll it in a ball, and then either dip it in chocolate, roll it in nuts or graham cracker crumbs, or even coconut flakes. Alternatively, you can dip whole slices of cheesecake in chocolate — just make sure to freeze the slices first.
Another great way to use up leftover cheesecake is to spread it between layers of crescent dough and bake it into pinwheels, as demonstrated on A Night Owl. With the spice cheesecake, I would dust the finished product with cinnamon sugar. I have many, many ideas of how I would make use of every crumb. Because while I love it, and my husband loves it, our kids don't do so well with dairy, which means more for us. It also means that I have to get creative when it comes to large bakery items. Not to worry, I'm up for the challenge.