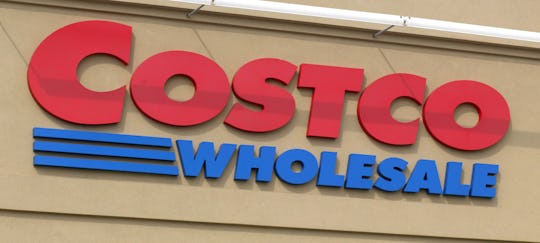 Tim Boyle/Getty Images News/Getty Images
If You Love Costco, You'll Love These Moms' Hilariously Accurate Shopping List Even More
If you've ever made a Costco trip in an attempt to buy enough food to sustain your family for a few days, you know that things can get a bit wild in the huge warehouse store. Kristin Hensley and Jen Smedley, two moms/best friends/comedians who run the blog I Mom So Hard, recently shed a light on just how hilariously poorly a Costco run can go sometimes. In fact, these moms' hysterical Costco "shopping list" is going viral, and all fellow Costco moms will totally love it.
"Headed to the Costco tomorrow and just trying to keep it real. What I need vs what I get... oh boy. What am I forgetting?" Hensley and Smedley wrote on the @imomsohard Instagram account. Alongside the caption was a screenshot of a satirical shopping list that totally captures what a trip to Costco can be like. The list includes a few wine-based items: wine, wine "with a handle on it," and wine in a box. There are also a couple of chicken-based items: chicken, a "box of chicken nuggets 6" too wide for my freezer," and "so much chicken salad, so so much." Aren't you feeling better already about all the times you bought too much chicken at Costco?
Check out the rest of the hilarious list:
Other notable food items on the list include a "50lb bag of trail mix that will never get eaten," a "big a** bag of spinach that turns to green water," "Chorizo I sampled but will never cook," and a "bucket of pickles — only thing under $10."
There's also a "6 pack of John Grisham books, just because," "gross vitamins," an "extra TV," a "magnum of Head n Shoulders for my bae," and "tent?"
Just like Target mom, Costco mom has become a funny-yet-accurate trope for moms who frequent the store in recent years. With Costco, moms can likely relate to certain positive qualities shared by other shoppers, like planning ahead, being a good bargain hunter, and always having cheap Kirkland booze on hand — something that the I Mom So Hard founders are definitely into.
Hensley and Smedley created I Mom So Hard to cope with the stress of being mothers. As explained on their website:
How do they cope? They laugh about all of the craziness that comes with being a mom and they want you to laugh about it too! From snot to stretchmarks to sleepless nights, Kristin and Jen know firsthand that parenting is a hard job and they invite you to join them in taking it all a little less seriously (even if for a few short minutes a day).
Unsurprisingly, their hilarious mommying-related antics have gone viral before. In September, they released a video on Facebook called "I Potty Talk So Hard," where they talked about how becoming parents has desensitized them when it comes to talking about poop. Hensley said in the clip:
In our house, poop is like front and center of all things. I start my day the same way every day, and it's with these words: "Finn, buddy, you gotta flush."
And in March 2017, their video called "I Swimsuit Season So Hard" went viral. In the clip, Hensley and Smedley tried on a variety of bathing suits, discussed how nightmarish swimsuit shopping can be, and pointed out how unfair bathing suit standards are for women versus men. "I wonder if there's a way to make your butt look too big, to really accentuate your love handles and make your bust feel inadequate?" Smedley joked in the video.
The I Mom So Hard moms have clearly found the key to successful parenting: turning each and every stressful moment into comedy.