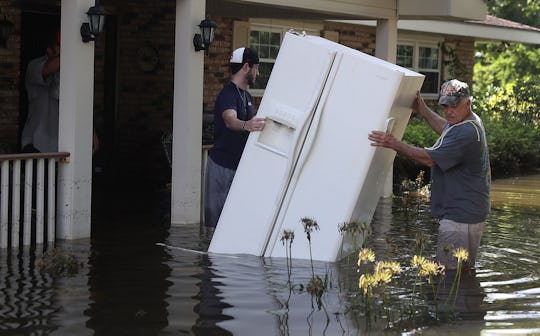 Joe Raedle/Getty Images News/Getty Images
This 9-Year-Old Gave Up All Of His Birthday Gifts To Help Louisiana Flood Victims
Although President Barack Obama won't visit the flood-ravaged areas of Louisiana until Tuesday — nearly two weeks after flash flooding devastated the southeastern part of the state — one much younger local has pinpointed a more expedient way to assist. In opting to start a campaign to deliver pizzas to victims of the disaster that has killed 13 so far and damaged or destroyed nearly 70,000 homes, a 9-year-old gave up all his birthday gifts to help Louisiana flood victims. Carson Boutte may not have been able to dream how grievously rain could affect his neighbors, but he did literally dream about feeding them after it did — and made that a reality.
According to KATC.com, an ABC affiliate in southeastern Louisiana, Carson had a dream about delivering food and water to flood victims before his ninth birthday August 20. He let his parents know, and through a Facebook post that reached others who wanted to help as well as Domino's, which committed to donating 100 pizzas for the first 100 ordered, Carson secured 363 pizzas to deliver to people working on salvaging what's lets of their belongings and homes.
"We're going to give them lunch so they don't have to stop what they're doing," the birthday boy told KATC before bringing the pizzas throughout Acadiana, an area that the flooding significantly affected, on Saturday.
Considering the loss of life and upwards of $30 million in damage the flooding has caused so far, the American Red Cross has determined that the situation in Louisiana is the country's worst natural disaster since Hurricane Sandy in 2012. Still, the public interest (well as that of our most prominent politicians of the moment) has been lukewarm at best. According to USA Today, the initial flooding and ensuing downpours happened in the midst of a presidential election and the Olympics, both of which pulled media attention from the catastrophe unfolding in the south.
But on Friday, the day before Carson delivered his birthday pizzas, Republican presidential nominee Donald Trump and running mate Indiana Gov. Mike Pence visited the state to help with relief efforts, a move Louisiana Gov. John Bel Edwards ultimately called "helpful" in bringing attention to the challenges and ongoing need for support there. Obama, though, planned his trip only after completing his two-week vacation in Martha's Vineyard with his family, and Democratic candidate Hillary Clinton released a statement Monday indicating she'd visit affected communities only when her campaign wouldn't "disrupt the response."
Despite the action or inaction of some politicians, flood victims are getting down to the business of emptying their homes of water-clogged furniture, carpet, and other belongings as they try to move through and past this. Carson believed he could help, and he did — at least for as long as it took some affected residents to eat lunch and know that someone had not forgotten about them.
"For a 9-year old to even think to help people ... it's amazing," Lacey Viator, who received pizza from Carson, told KATC. "Everybody is here. Everybody brings stuff and for him to get 300 and something pizzas delivered ... he probably didn't even have pizza, but he brought it for everybody else."
As both human and natural disasters flood the news day after day, week after week, year after year, many adults begin to experience a disaster fatigue, which makes exhibiting heartfelt empathy each time terrorists attack or a tsunami hits in a far-off country exhausting. That's not to say we're apathetic; we've just developed a defense mechanism to emotionally deal with the near-constant misery we and others experience. Many hardworking and amazing adults are doing all they can to help victims in Louisiana right now — but sometimes, it takes a child with a fresher perspective to remind us all how much of a difference pizza can make for people who've lost so much.