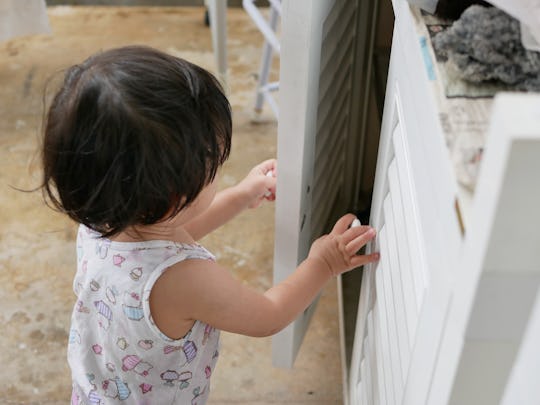 Shutterstock
This Baby-Proofing Checklist Makes It Super Simple To Keep The Whole House Safe
So much of parenting, regardless of how old your children are, revolves around keeping your kids safe. It starts even before they're born, with months of research and frantic phone calls to friends and family for advice on choosing the sturdiest car seat/high chair/stroller and the most high-tech baby monitor. Then, before you know it, your baby is walking, then running like a miniature human tornado. That's when a baby-proofing checklist can really come in handy.
Once your baby is on the move, things that once seemed innocuous in your quiet, adult-only life (think: forks, drawers, and cleaning supplies) now take on a new, more menacing vibe. How do you baby-proof your house in a way that will truly keep your child safe ? I spoke with two experts from the International Association For Child Safety (IAFCS) to find out.
Many people think that this process starts when a child is mobile, so I was surprised to learn that baby-proofing should start as soon as the child comes home from the hospital. (Ideally, some steps should be taken before your baby is even born.) Jeff Baril, President of IAFCS and owner of Safe Beginnings, says that before you even begin to child-proof, you'll want to assess your surroundings and "take a baby's view of your home." This means altering your vantage point or even crawling around (just make sure your Nest camera is off as to not severely weird out your spouse) to notice things the baby will notice first. Baril also recommends that you be proactive when it comes to baby-proofing. "Don't wait until your child shows an interest," he tells Romper. "Be thorough. There is no downside to doing more." He also adds that a huge part of baby-proofing is really just noticing and changing your habits that may dangerous for a child. "Don't leave vitamins or medications where they are easily gotten to by your child," he offers as an example.
Below you'll find an easy-to-follow, step-by-step checklist for baby-proofing every room in your house.