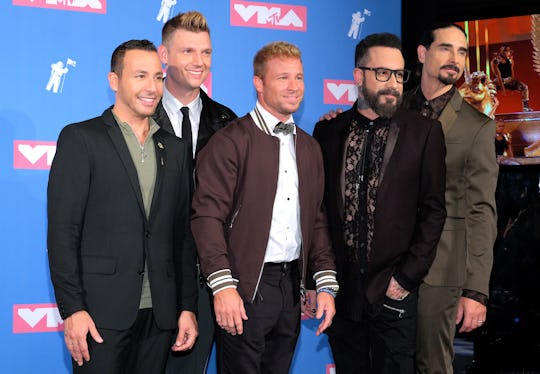 Matthew Eisman/Getty Images Entertainment/Getty Images
A Backtreet Boy's Son Has A New Country Song, So Guess What We're All Old
I am struggling not to get a little depressed as I type this. Because this morning I looked haggard and old, so perhaps I'm being a little extra sensitive to anything that makes me feel aged. I should be feeling stoked and excited about the news that a son of a Backstreet Boy just made his music debut, but instead I'm wondering if I should call my doctor for a bone density test. Because I guess I really am that old. And so are all of you.
Baylee Littrell, the son of Backstreet Boy Brian Littrell, just released his very first country music single "Don't Knock It" on Friday. He timed the release to coincide with his 16th birthday, because he is apparently already one of those marketing geniuses who knows how to make any event do double duty. Baylee's mom, Leighanne Littrell, decided to throw her son a massive sweet 16 bash in Atlanta over the weekend, which also did double duty. The young musician got the chance to party it up as a 16-year-old and also perform his debut single for family, friends, and a Backstreet Boy or two. Because not only was his dad Brian Littrell on hand, but so was his fellow bandmate Kevin Richardson. I have to admit that I take comfort in the fact that Richardson had the same mustache/intense gaze combo I remember so well.
As Baylee explained to People about the impeccable timing of his new single:
It really felt right. My mom, dad, and I were just talking about it one night and they said they thought now was the perfect time to start. We chose November, the month of my birthday, to release the first single.
Despite the fact that performing in front of throngs of fans is sort of in his genetic makeup, Baylee admitted to the media outlet that he was pretty nervous to perform on Saturday with a live band and everything:
When it comes to family, it's a completely different energy, so I'm so nervous to perform in front of my family.
For those people who are surprised that young Baylee went into country music instead of pop, he explained that he feels country music has a way of connecting with people in a deeper way:
You can't relate to any other song like you can to a country song, and that's why I bonded with it so much and that's why it's my favorite genre. If I was ever going through a breakup or hard time, I always listened to country music — it's Luke Combs or something super country that tells a story.
He might be on to something here; "Don't Knock It" is already in the Top 100 on the Apple Country Music chart as of Sunday.
At 16, Baylee is already a pretty seasoned performer. He opened up for the Backstreet Boys when he was just 10, and his parents have supported him along the way as he found his own voice. Baylee is a big fan of Florida Georgia Line, who have recorded with the Backstreet Boys, and told Entertainment Tonight their new country music sound acted as something of an inspiration for him.
It looks like the future is bright for young Baylee Littrell. Unfortunately, it's all down hill for me from here. Because I'm now on generation two of the Backstreet Boys. And my bones are probably brittle.
This first-time mom wants to have a home birth, but is she ready? Watch how a doula supports a military mom who's determined to have a home birth in Episode One of Romper's Doula Diaries, Season Two, below. Visit Bustle Digital Group's YouTube page for the next three episodes, launching every Monday starting November 26.