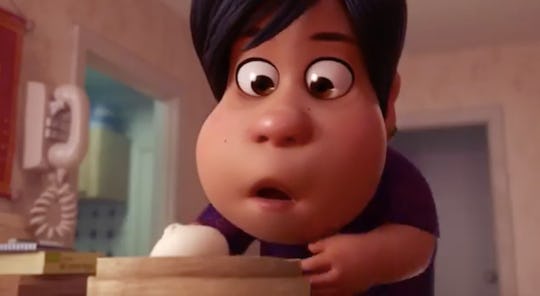 Disney Pixar
Meet 'Bao': The Super Cute Pixar Short That'll Air Before 'Incredibles 2'
If you weren't already planning on taking the family to see Incredibles 2, there's now another good reason to get your tickets early. This week, the trailer for the Disney-Pixar short that will air before Incredibles 2 was released and it looks so adorable you're going to want to see it twice. Remember last year when people were trying to figure out how to get out of seeing the Frozen short before Coco before the studio cut it from the theatrical release? I have a feeling that that will not be the case with Bao, from director and storyboard artist Domee Shi.
There are a couple reasons to celebrate this short. To start, it's about a little baby bao, or steamed dumpling, growing up and the animation is so sweet. Even better? Shi is the first female director of a Disney-Pixar short and she based the story on her mother's experience with empty nest syndrome, so be prepared to feel all the feels.
The short focuses on a Chinese-Canadian woman, like Shi, who is going through empty nest syndrome and then gets to be a mother again when she notices one of her dumplings comes alive. It's going to be hard to order any dumplings this summer after seeing this little guy.
The short looks super cute, but the backstory is even better. Shi told Entertainment Weekly, "Often times it felt like my mom would treat me like a precious little dumpling, wanting to make sure I was safe, that I didn't go out late, all that stuff." She added:
I just wanted to create this magical, modern-day fairy tale, kind of like a Chinese Gingerbread Man story. The word 'bao' actually means two things in Chinese: Said one way, it means steamed bun. Said another, it means something precious. A treasure.
Ah-dorable, right? The little dumpling even goes through puberty, according to another interview Shi did with Entertainment Weekly in March — instead of all the things humans go through, a bao gets sesame seeds during puberty, which is hilarious.
Shi said that when she presented concept images at the studio and word got around that she was going to make it, Asian and immigrant parents contacted Shi and producer Becky Neiman-Cobb to get in on the project, proving that representation really is everything. But the story is something that all parents (and kids) can relate to. Shi said in the same March interview:
It felt like a really universally appealing story that a lot of people could identify with. We got a ton of e-mails from people identifying with the mom character, or the dumpling character, saying, 'Wait, that's me,' or 'That's my parents,' or 'I'm dealing with this right now.'
People On Social Media Are Feeling It, Too.
Neiman-Cobb. said that the hardest part about making the short was getting the food just right. Luckily, they brought on some of the same artists who worked on 2007's Ratatouille to help out.
You know Pixar and you know the special effects we can pull off here: explosions and water and splashes and fire and fireworks. One of the biggest challenges, and what brought our effects department to their knees, was Dumpling's pork filling. That was hard. We learned there's a very fine line between looking delicious and appetizing and looking wrong or gross. Making our food look delicious was a big triumph.
So really, bring your appetite and some tissues to the theaters on June 15 when you head to see the movie, because Incredibles 2 will also focus on motherhood. Now that supers are outlawed, according to the trailer, Elastigirl, voiced by Holly Hunter, heads out into the working world while Mr. Incredible, voiced by Craig Nelson, stays home with the little ones, which is a theme not often explored in children's movies. I mean, we all know moms are superheroes, but this is an actual superhero mom. It's about time, right?