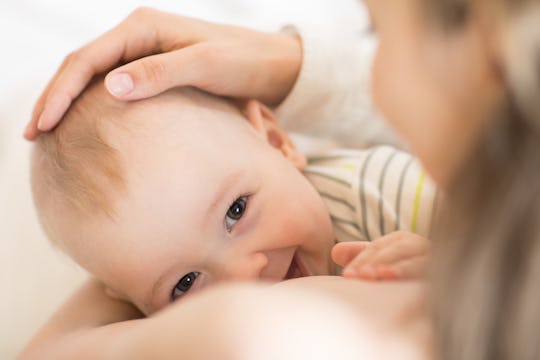 Oksana Kuzmina/Fotolia
This Canadian Politician Breastfed In Parliament, & Twitter Is Loving It
I am a Canadian person. I also breastfed all of my four sons. So excuse me while I make a huge, whopping deal about the Canadian politician breastfeeding in Parliament earlier this week. Because other than the fact that she is a politician with a considerable amount of power and such, we're basically the same person.
For whatever reason, public breastfeeding remains a bit of an issue for some people in the world. Especially if it's a women who is at work, apparently. Which is why it's so important to see women of influence changing the conversation. Democratic Institutions Minister Karina Gould was in Ottawa at the House of Commons on Tuesday, which is the Canadian version of the House of Congress in the United States. It looked to be a pretty typical day at the House of Commons, with politicians vehemently raising their voices to get their point across during the Question period. Although this time around, there was one small difference. Gould sat in the background of an especially raucous moment, casually breastfeeding her son Oliver. And here is the best part of the video, which has already been shared by several news outlets; nobody in the video is remotely concerned with the fact that Gould is breastfeeding at work. They're just going about their business while she goes about the business of feeding her baby.
When the video of Gould breastfeeding while simultaneously fulfilling her role as Democratic Institutions minister hit the internet, it went viral. The people of Twitter loved it, and with good reason because she's clearly a badass. Women shared their support of Gould breastfeeding her baby and remembered all of the times they had breastfed in public as well. On account of it's a normal thing to do, I hear.
As for Gould herself, she took to Twitter to point out that there was "no shame" in breastfeeding her 3-month-old son Oliver, because a "baby's gotta eat." And for the record, Canadian Prime Minister Justin Trudeau (who is also a self-described feminist) retweeted Gould's words as a show of support.
Sadly, with every positive comment there appeared a negative counterpoint. People who were offended that someone would breastfeed their child in the workplace, and who saw it as a sign that our world no longer lacks decorum.
So here's a little dose of reality for people who would prefer to keep the old status quo; women have decided we aren't doing that thing anymore. You know, the old trope where you can either work or be with your baby, not both. We have decided that yes, we get to do both if that's our choice. And the rest of the working world is just going to have to get used to it.
Another excellent case in point? Jacinda Ardern, the Prime Minister of New Zealand, who just became only the second woman to govern a country to give birth while in office. She gave birth at the Aukland Hospital on Thursday after working late into her pregnancy, according to CNBC.
This is the new order of things; politicians breastfeeding while at work and being supported by everyone around them. Women governing entire countries and giving birth to babies. I get that people who liked things the way they were before, women hiding their breastfeeding in private and having to make constant difficult choices between their home life and their work life, might be freaked out by the change. But sorry, all of that sort of sucked. I like things better the way this way. Moms working with their babies in tow, able to feed and live and work without being constantly divided.
Sorry not sorry.