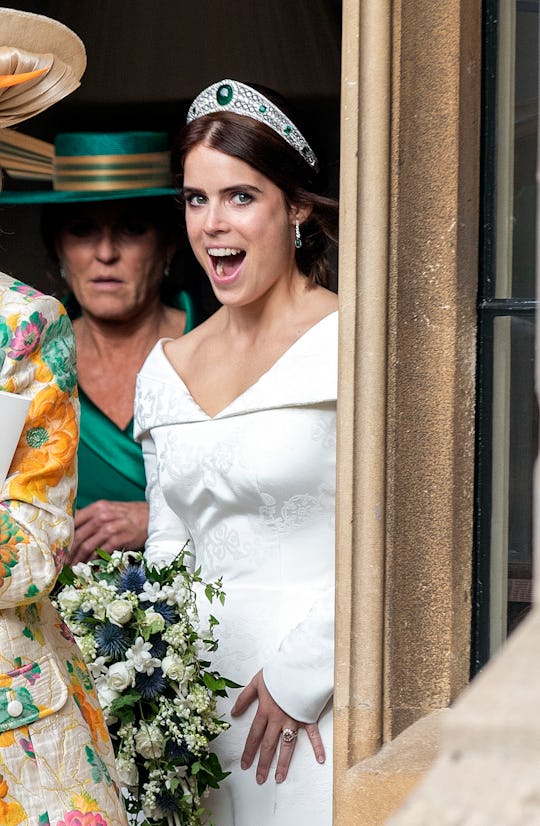 WPA Pool/Getty Images Entertainment/Getty Images
This Photo Of Princess Charlotte Giggling With Princess Eugenie Is Too Sweet
I don't know if I'm in love with all of the British wedding traditions after watching two royal weddings in 2018. Like I sort of miss that whole "You may kiss the bride" thing, which is probably ridiculous. But there's one tradition I'm warming to and that's including just a gaggle of adorable children in your wedding party. It's bold and charming all at the same time, not to mention the fact that it offers ample photo opportunities. Like this candid photo of Princess Charlotte laughing with Princess Eugenie and the rest of the tiny wedding party. I think this needs to become a new thing here.
Princess Eugenie married her longtime love, wine merchant Jack Brooksbank, on Friday at St. George's Chapel in Windsor Castle. Much like the wedding of Meghan Markle and Prince Harry in May, the wedding party had nary a grown up human in its midst. Instead the couple were accompanied down the aisle by a little league of sweet-faced children, and a few of them were even royals themselves. Included in the ranks were several cousins of Princess Eugenie, the youngest daughter of the Duke of York and Sarah Ferguson; namely 5-year-old Prince George and 3-year-old Princess Charlotte.
And from the looks of this candid photo Princess Eugenie shared to her Instagram page on Tuesday, Princess Charlotte especially seemed to have a real connection with the bride.
Princess Eugenie captioned the photo, where she and Brooksbank are sitting on the floor surrounded by their wedding party laughing and having a ball:
Jack and I would like to thank everyone who was involved in making our day so special and for all the wonderful wishes as we start married life laughing together.
Also pictured in the sweet photo are three more of Princess Eugenie's cousins, 4-year-old Mia Tindall (who is the daughter of Zara Tindall), 6-year-old Isla Phillips, and 7-year-old Savannah Phillips (daughters of Peter and Autumn Phillips). Some royal watchers might recognize Savannah Phillips, the young bridesmaid who has her arms around Princess Eugenie's neck. She appears to be the one person on the planet who always seems to have serious young Prince George dissolving in laughter, whether she's playing a fake trumpet at the royal wedding or covering his mouth as he sings on the balcony at Buckingham Palace.
For Princess Charlotte, however, it looks like Princess Eugenie is the one to get her going in a fit of the giggles. Perhaps because she might know the key to a little kid's heart; keeping them entertained. A source close to the royal couple told Hello that Princess Eugenie gifted her bridesmaids and page boys with a clever gift. The gift of keeping themselves busy during the long wedding day events:
All the bridesmaids and pageboys were given bespoke packs to entertain them during the long day from KeepEmQuiet.com. The packs, which had individual names on, included colouring books, tailored games, figurines and puzzles. They also had dress up glasses and magic painting.
Perhaps Princess Eugenie remembers her own childhood of acting as a bridesmaid and wants to head trouble off at the pass. Or maybe she just knows these kids really well and wants them to have fun.
Whatever she's doing, it's working.