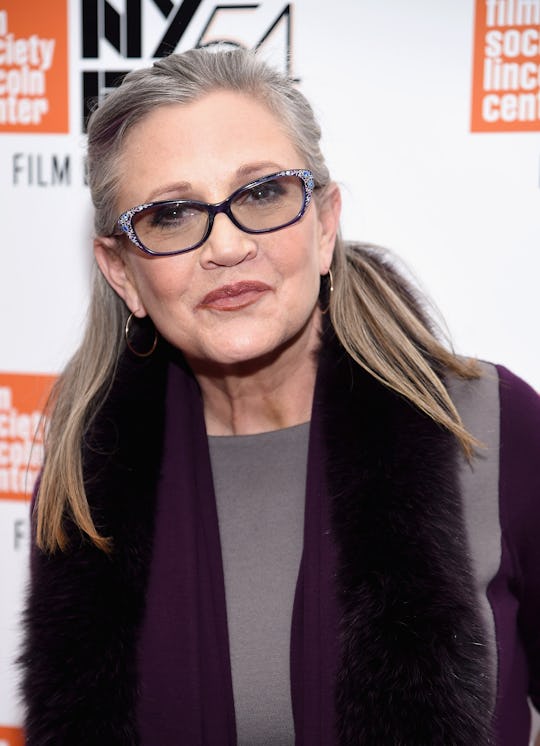 Dimitrios Kambouris/Getty Images Entertainment/Getty Images
Carrie Fisher's Most Epic, Feminist Tweet
Carrie Fisher died of a heart attack on Tuesday at the age of 60. Most people know her as Princess Leia from the Star Wars franchise, wide-eyed and kicking butt with the rest of them. But that was most certainly not her greatest role — no, if you really want to understand why her death is such a tragedy, this one Carrie Fisher Tweet is a reminder of the woman we lost. A true feminist who didn't care what anyone thought, and was never afraid to call people out for being ridiculous.
Fisher has spent, quite literally, her entire life in the Hollywood game. Born to actor parents ('50s Hollywood royalty Debbie Reynolds and Eddie Fisher), she was just a little girl when her father famously left his family to marry Elizabeth Taylor. The divorce was highly publicized, and young Carrie Fisher had to somehow manage to find her way through that (not to mention her mother's next highly publicized divorce and her father's subsequent battle with drug addiction).
Fisher was made of sterner stuff than most; She dropped out of school at 19 years old to take up acting and landed the role of Princess Leia, a warrior princess who has lost her entire family but continues to fight for the rebellion, regardless of what stands in her way. Fisher naturally saw the parallels to her own life in the role.
Fisher talked to Rolling Stone in 1983 about her role as Princess Leia: 50 percent fantasy fodder for adolescent males and 50 percent feminist warrior struggling like hell to save the world:
From the first film [A New Hope], she was just a soldier, front line and center. The only way they knew to make the character strong was to make her angry. In Return of the Jedi, she gets to be more feminine, more supportive, more affectionate. But let's not forget that these movies are basically boys' fantasies. So the other way they made her more female in this one was to have her take off her clothes.
Fisher could have easily allowed herself to become simply the adored sex icon in the gold bikini for generations of young men and women, but that just wasn't her scene. Fisher was a noted author, screenwriter, and playwright. Her semi-autobiographical screenplay, Postcards From The Edge, won her a BAFTA for Best Screenplay. She wrote a memoir about her life (which started out as a one-woman show in 2008) called Wishful Drinking, where she did perhaps the most courageous thing of all; she unabashedly told the truth. The hilarious, poignant, awful, wonderful truth.
Most notably, in a Tweet following the premiere of Star Wars: The Force Awakens in December 2015, Fisher reiterated one very important point, that many who had just excitedly seen the installment and were buzzing about her role in the film on Twitter seemed to be missing: Her physical appearance was not up for debate.
"Please stop debating about whether or not I've aged well," she said, referring to the many conversations circling the internet about how Leia was supposed to look one way or another, or whether her character had lived up to harsh expectations. "Unfortunately, it hurts all three of my feelings. My BODY hasn't aged as well as I have. Blow us." She added,
Youth and beauty are NOT ACCOMPLISHMENTS, they're the TEMPORARY happy byproducts of time or DNA. Don't hold your breath.
Those tweets, along with the rest of her grounded advice and commentary, I think, are the secret of what made Fisher wonderful. She just told the truth. She spent most of her life being open and honest about her struggles with bipolar disorder as well, because she wanted to use her story to empower others. Fisher also had her issues with drug use, and she refused to be quiet about them. Likewise her romances, failed and otherwise. Fisher simply told the truth all the time, which is by no means ever simple. Because her truth, whether she was calling out body shamers in Hollywood, or sexism, or discrimination against mental health disorders, was always the truth worth telling.
As Tina Fey said in a statement after learning of Fisher's sudden death:
Carrie Fisher meant a lot to me. Like many women my age, Princess Leia occupies about sixty percent of my brain at any given time. But Carrie's honest writing and her razor-sharp wit were an even greater gift. I feel so lucky that I got to meet her. I'm very sad she is gone.
As are we.