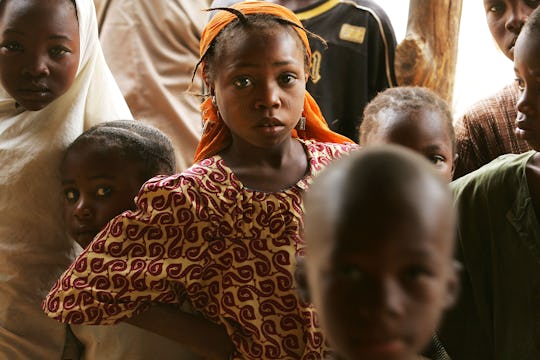 Chris Hondros/Getty Images News/Getty Images
This Common Antibiotic Can Help Save Children's Lives, New Study Finds
The death of a child is, in my opinion, the worst thing in this world. Especially when that death is preventable. It's almost unbearable to imagine a small child's life ending before it's even begun. And while children will, unfortunately, continue to die around the world, a new study found that this common antibiotic can prevent child deaths in sub-Saharan African countries, and it's encouraging news.
A new study published by the University of California in San Francisco found that the common antibiotic known as azithromycin has the potential to cut down deaths of children under the age of 5 drastically if it's distributed five times per year, as CNN reported. The study was carried out in 1,533 communities in three countries: Malawi, Niger, and Tansania. This area was chosen because one out of every nine children die before they reach their fifth birthday, according to CNN.
Scientists administered small doses of azithromycin (20 milligrams) to half of the child participants in the study five times a year, and the other half were given a placebo. The study included 190,000 children between the ages of 1 month and 5 years old. Preventable deaths in children who were given doses of azithromycin was reduced an average of 13.5 percent by the medication.
Scientists involved in the study were encouraged by these results, which have the potential to save millions of lives with a readily available, inexpensive antibiotic like azithromycin. As Dr. Jeremy Keenan, the study's lead author and a professor of ophthalmology at the University of Calfiornia in San Francisco, noted in a press release:
The study shows we can prevent young children from dying with a simple intervention. We could scale our newly studied intervention to reach millions of vulnerable children in resource-poor countries, in much the same way that trachoma programs, which give children and adults a single dose of azithromycin each year, have been doing for years.
This isn't the first time researchers have found successful uses for azithromycin to treat preventable diseases; 30 countries around the world currently use the antibiotic to prevent trachoma, a bacterial infection that is the leading cause of blindness worldwide, according to The Carter Center.
While scientists weren't able to specifically determine the cause of childhood death that azithromycin was helping to prevent in Africa, they hypothesized that the deaths were most likely related to malaria, pneumonia, and diarrhea-types of diseases. As Dr. Jeff Griffiths of Tufts University of Medicine explained to CNN:
Azithromycin works against lots of causes of diarrhea, lots of causes of pneumonia, and it also works against the malaria parasite. And unlike a dose of penicillin, which might work against bacteria, this is something that might work against a variety of different things.
Researchers also noted that the antibiotic might fight against the microbes that cause respiratory infections in children.
So that's the good news, that preventable diseases in children living in developing countries could be significantly reduced by an inexpensive antibiotic. Which could also bring the world closer to reaching the goal of the United Nations of ending all preventable childhood deaths by 2030. Now for the bad news; the areas where the antibiotic is needed are economically depressed. Pharmaceutical company Pfizer donated the azithromycin for the study, and it's unclear how each country might be able to finance the distribution of the antibiotic moving forward. Then there's the question of developing a resistance to the antibiotic, as noted by Bill and Melinda Gates Foundation (who funded the study) deputy director of global health division Rasa Izadnegahdar:
This study shows that azithromycin, which has been so effective in reducing trachoma, has the potential to save the lives of young children who live in places where a child dying before their fifth birthday is a tragically common event. While we will need to keep an eye on antibiotic resistance and identify the best way to deliver this intervention in some of the hardest-to-reach communities where we partner, we are optimistic that this will be a new tool to help prevent childhood mortality.
This study will hopefully be the first of many to discover the effects of azithromycin on childhood mortality rates. But for now, it's encouraging to know that there could be a light at the end of the tunnel.