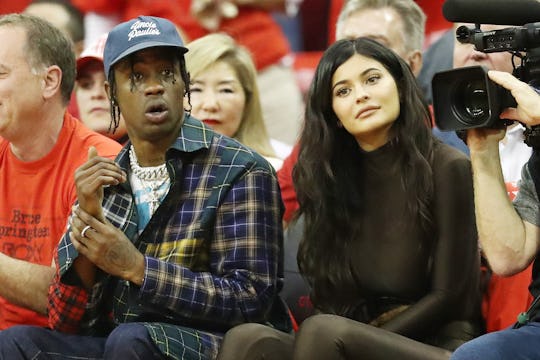 Ronald Martinez/Getty Images Entertainment/Getty Images
Don't Count On Seeing Photos Of Kylie Jenner's Daughter Anytime Soon, & Here's Why
The Kardashian and Jenner sisters are constantly monitored by people, whether it's by their fans or paparazzi. So it makes sense that they often take matters into their own hands by posting their own selfies, videos, and filming their own reality show, Keeping Up With The Kardashians. People seem to love these glimpses into their "real" lives, so when Kylie Jenner all of a sudden started deleting photos of her baby daughter, Stormi, fans wondered what happened. However, we might know why Kylie Jenner deleted all of her Stormi photos from Instagram and it's for a disturbing, but totally understandable reason.
On Sunday, Kylie posted a selfie laying down with Stormi, but her baby was mostly cut out of the photo. According to Cosmopolitan, fans wondered why and a lot of them assumed that she was doing it for vain reasons, because people always assume the absolute worst about Kylie and her sisters' parenting skills. But the Instagram account CommentsByCelebs found a rare response from Kylie who wrote, "yeah I cut my baby out. I'm not sharing photos of my girl right now."
Which is a bummer, but it definitely makes sense. Kylie is one of the more private sisters in general and she's had multiple stalkers throughout the course of her life, as reported by Seventeen and The Mirror. And when it comes to her latest decision with sharing photos of Stormi, an "insider" close to the family reportedly told People pretty much the same thing.
This source told People: "Kylie felt so protective of her baby when she was pregnant. This is why she didn't share any bump pictures while she was pregnant. After Stormi was born, Kylie was the proudest mom. She couldn't wait to show off Stormi to her fans. She posted pictures, because she was so excited to be a mom. Unfortunately, social media is a crazy place."
According to People, the insider added that people were making "nasty" comments and that she just decided to take down any pics of Stormi's face so that she doesn't get wrapped up in all the negativity. It should be noted that the Kardashian and Jenner sisters often call into question "anonymous" insiders and sources that speak to the media about them. But the reported reasoning does line up with some other things going on in her life.
For one, people are just plain mean on her social media account. It's something that she likely just blocks out, or maybe has an assistant handle when she can't. But that doesn't mean that people aren't leaving terrible remarks about her baby on her pictures. Imagine if someone wrote "ew" every time you posted a picture of your kid, right? To take things one step further, Kylie's trolls are also intent on spreading rumors about who Stormi's dad is, which is just gross.
One person wrote, for example, on a photo with Stormi cut out, "do you think it's until she finds out who the real daddy is LMAO." Another added, "More like she's offended cuz her baby be looking like 3 dudes & she can't confirm who the daddy is. [So] now she not gonna post pics of her baby much anymore lmao. I find it funny."
Yet another suggested she was trying earn money from pics of her daughter. "She probably hasn't been told the right price tag of how much she will get for posting her baby's pics yet," they wrote.
If there was still any confusion out there, her boyfriend, Travis Scott, is Stormi's father. Even so, people just won't quit speculating that her former bodyguard, Tim Chung, is. Fortunately, though, Chung took to social media to issue a statement in May, according to Us Weekly, writing:
I am a very private person and would normally never answer to gossip and stories that are so ridiculous that they are laughable. Out of deep respect for Kylie, Travis, their daughter together and their families, I would like to set the record straight that my interactions with Kylie and her family have been limited in strictly a professional capacity only. There is no story here and I ask that the media no longer include me in any narrative that is incredibly disrespectful to their family.
According to People, all of these rumors came about because some trolls thought they saw a "resemblance" between Chung and Stormi in pictures that Kylie posted to Instagram, which could be why she's just not going to put her daughter out there or subject her, or herself, to that kind of abuse.
Questioning a child's paternity is super low and tasteless in any scenario. Just because Kylie Jenner (or her sister Khloé Kardashian, who has also been the butt of paternity jokes) is a famous person doesn't mean people can stop being civilized. If there are no photos to analyze, there are no terrible rumors or bullying comments. Kylie likely gets how hard it is to grow up with a celebrity mom — she never asked for her fame, either, and it wasn't until she was a teenager and able to make her own choices that she really dove into her public career.
Given how often Kylie has talked about wanting to be a "normal" girl, as Jezebel previously reported, it seems that she would be extra cautious with her daughter. So, if you miss seeing photos of Stormi, you can blame the internet trolls and Kardashian-Jenner haters. But in the name of her daughter's best interest, she likely did the right thing.