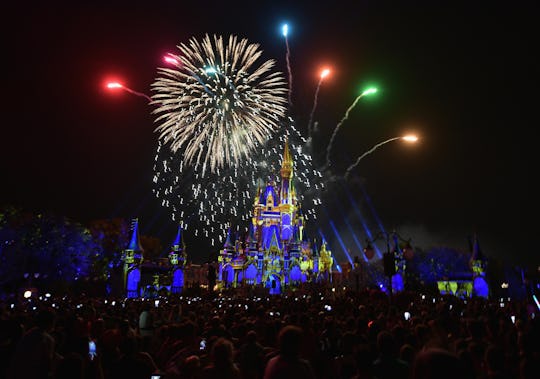 Gustavo Caballero/Getty Images Entertainment/Getty Images
This Dad's "Took" His Daughter To Disney World For Free
Disney World might be the happiest place on earth, but it's crazy expensive. I've taken my sons a few times over the years, and it was honestly the most fun ever. What wasn't so fun was that whole saving-up-my-money-for-what-felt-like-a-lifetime thing. The question, of course, is how exactly does one get around the cost while enjoying the fun? Simple. This dad's hack allowed him to "take" his daughter to Disney World and not spend all of his money. Brilliant.
Victor Peoro, who hosts a YouTube channel as KentuckyFriedIdiot, wanted his daughter Autumn to experience Disney World. And instead of paying the price of a ticket to the Magic Kingdom (which can cost anywhere from $44-$99 per day, depending on how long you plan on going as the tickets get cheaper the longer you stay), Peoro decided to get creative. On July 4, he "took" his 2-year-old daughter Autumn to Disney World. Meaning he put her inside a plastic storage container, put a video of a roller coaster on the television, and got to work. While his little girl was focused on the screen in front of her, Peoro propelled her through the air as though she was actually on the roller coaster. For free. He called it the "Poor People Roller Coaster," and he shared video of the even, where daughter Autumn is clearly having the time of her life, on YouTube.
The video went viral, with more than 625,000 views and comments from other parents who found the cost of traveling to Disney World with their own kids prohibitive and appreciated Peoro's inventiveness.
John Kalinowsky wrote: And the Father-of-the-Year award goes to....this guy! Can't wait to do that with my daughter!
Another fan of the video, brandx01, noted that having a father who is clearly engaged in her well-being is worth far more than a trip to a theme park:
I had just as much fun watching this!! Trust me, she's going to treasure this memory forever and realize what a cool-dad she has. Hope you share her first ride on a real roller coaster with us!
Fortunately, it looks as though the family will get the chance to visit the real Walt Disney World Resort after all. Peoro started a GoFundMe page to take Autumn to the famous theme park, writing:
Our daughter would like to go to Disneyworld. Now if you've been to Disneyworld you know it costs $5.00 for a 16 oz bottle of water, let alone the ticket price. If you enjoyed our video, please think about making the dream come true!
The page has already surpassed the original goal of $3,000. So it looks like Autumn is going to get the best of both worlds: a dad who loves her, and a trip to the happiest place on earth.