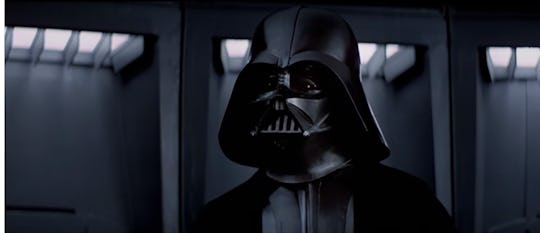 Auralnauts
This Darth Vader Donald Trump Mashup Proves Trump Is More Darth Vader Than Darth Vader — VIDEO
Some Internet genius has just given us a wonderful holiday gift: a Star Wars mashup of Donald Trump and Darth Vader that proves that Sith Lord Donald Trump is truly more terrifying than Darth Vader could ever be. (And really, we all thought that was impossible.) Featuring scenes from the three original Star Wars movies, A New Hope, The Empire Strikes Back, and Return of the Jedi, Vader's dialog has been carefully replaced with actual sound bites of Donald Trump, intermingled with the original dialog of the other actors, and it fits perfectly.
We open, as always, with a shot of an Imperial Star Destroyer. But while Vader's theme was the "Imperial March," Trump's, as we all know, is "We're Not Gonna Take It" by Twisted Sister. Doesn't quite set the tone as well, but let's go with it, OK? Also, the ship has a giant Trump campaign sign, which is … more scary? Yeah, I'm gonna go with it. His slogan, of course: "Make The Galaxy Great Again."
Inside the ship, Vader is confronted by Princess Leia, to whom he rants about Ben Carson's weird stories that he attacked his mother with a hammer, and attempted to stab his friend. Watch carefully: even Vader's gestures sync with Trump's words. "I don't know what you're talking about," Leia replies. You and me both, sister.
Check out all the ways that Vader's scenes were improved by replacing him with Darth Trump: