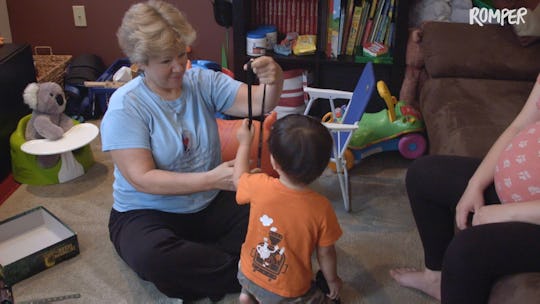 Janet Upadhye/Romper
This Doula Missed Her Clients' Birth — But She Ended Up Right On Time
Life, and bringing life into the world, doesn't always go as planned. Christine Golcher has been a doula for five years, but her client Vivian's labor, captured in Episode 4 of Romper's Doula Diaries, was the quickest the Philadelphia-based doula has ever seen — or not seen, actually. One morning this September, just after midnight, Vivian, gave birth to her second child, a baby girl, within 45 minutes of going into labor. She just barely made it to the hospital in time and gave birth in the triage area. Golcher wasn't there yet. "We were both pretty upset that I didn't make it. I was beating myself up," Golcher tells Romper. "She says she would have preferred me to be there, but when it happens like that, there's nothing that you can do to get there any faster."
After the birth, Golcher and Vivian huddled for a postpartum meeting to process everything. Under normal circumstances, says Golcher, "I try to stay an hour or two afterward, and that's mainly to make sure that they get their immediate skin to skin contact with the baby, that the first breastfeeding session goes well. Sometimes moms will need help with that. It's usually when all that's done [and] they're settled and ready to go up to the postpartum room that we just sneak away." In Vivian's case, there was a bit more processing to do, both because the birth was so fast and because Golcher hadn't been there. "It must have been such a blur for her having given birth so quickly, but you can't beat having a fast labor, so that was a blessing for her," Golcher says.
While she missed the moment Vivian's daughter entered the world, Golcher was present for the birth of Vivian's son two years ago. Having repeat clients is not unusual for doulas, as the bond between a woman and her doula runs deep. But so can the relationship between a doula and the dad, and that has been the case for Golcher and Vivan's husband, John.
There are some of us that are hippies, but... we're all ages and personalities and races and religions, you name it. There's a doula for everyone.
John is a stay-at-home dad, which allows Vivian to work full-time and provide for the family as an accountant. However, it's not unusual for fathers even as involved as John to get left out of the birthing process. "After the mom, the dad is the second most important person in the room when the baby's born," Golcher says. As Vivian prepared to return work after the birth, Golcher spent time with John to help him connect with baby Arden. "I make it a point to give the dad some suggestions, or ask him to come over and try this exercise or that exercise and keep them involved," Golcher says. With John, she helped reacquaint him with swaddling techniques and other ways dads can bond with babies.
Golcher came to doula work later in life. Five years ago, she was working as an office manager for a physician when her best friend, who had become a doula, encouraged Golcher to consider a career change. "I was sitting with her on the beach one day, and she was telling me all about it," Golcher recalls. "I already had another career, but this kept pulling at me because it felt like something that I was much more passionate about."
Earlier in their lives, when they became mothers themselves, Golcher and her friend had bonded over a shared love of breastfeeding and interest in unmedicated birth, so doula work felt in the cards for both of them. Golcher says her doctor's office job involved managing adults who were acting like children. Why do that when she could work with actual babies? She gave her two-weeks notice and never looked back.
She says that since she became a doula, she has seen a vast increase in public awareness of doulas, which in turn has made it easier to find clients, including repeat clients like Vivian and John. "You still always want more clients. It takes a while to build up a business." When Golcher isn't engaged in her doula work or related activities — she is also a lactation consultant, childbirth educator, certified in aromatherapy, and an herbalist — she makes extra money by working as an Uber and Lyft driver in the Philadelphia area. It's flexible enough that it allows her to make extra money around her doula work. "Uber driving has been the only thing that I can find that I can turn on when I don't have a client and turn off when I have one."
An Uber-driving doula may seem like a novelty, but making ends meet is a practical concern across the doula industry, since the work is by its nature unpredictable. "I'm not busy one hundred percent of the time with my business yet. I hope to be someday, but for now I'm not," Golcher says. "I've been doing it for five years, but it takes time to get your name out there in the community."
Part of being a doula is constantly staring down misconceptions about what they do and don't do, like the notion that they only support unmedicated births (Golcher and every doula interviewed for Romper's Doula Diaries support all birthing choices so long as it's what the client wants), or that they are there to replace a woman's partner, a myth that Golcher's attention to John proves untrue. And of course, there is the hippie stereotype. "I'm 57, and pretty conservative," Golcher says. "There are some of us that are hippies, but... we're all ages and personalities and races and religions, you name it. There's a doula for everyone."
If you were a young couple, would you climb Mount Everest for the first time by yourself? No.
Golcher says she was taught that doulas can be likened to sherpas. "If you were a young couple, would you climb Mount Everest for the first time by yourself? No. You would have a sherpa. So for a first time birth, the doula is really just the sherpa. It's a guide who has been through it many times to know what's normal." Golcher says that while deliveries sometimes align with clients' birth plans, the unexpected, such as Vivian rapidly giving birth to her second child, is just as normal. While it's easy to ruminate on the one time a delivery happened faster than Golcher got to the hospital, flexibility in chaos is simply part of the job. "We always tend to remember the ones that didn't go as planned. Those are the ones you feel bad about," says Golcher. "But you always have to be willing to change your birth plan on a dime, because things can change that quickly."
Check out Romper's new video series, Romper's Doula Diaries:
Watch full episodes of Romper's Doula Diaries on Facebook Watch.