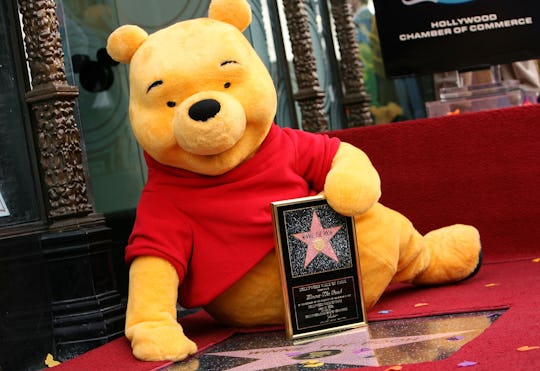 Michael Buckner/Getty Images Entertainment/Getty Images
Disney Just Revealed How Winnie The Pooh Got His Name, & It's A Pretty Incredible Story
If you're anything like me as a parent, taking your kids to the movie theater to watch anything longer than 30 minutes is a recipe for disaster. It's an unfortunate reality that asking small children to sit in a movie theater to absorb even the greatest of films is not something that can always be done, which is why many of you might not have seen Christopher Robin in the theater; too much work for little ones. But the good news is you're getting a second chance. This exclusive Disney clip teaches kids how Winnie the Pooh got his name, and gives you a sense of how much your family might genuinely enjoy the movie. Just, you know, in the comfort of your own home where you can move about freely.
So here's a bit of a disclaimer for you with this Disney movie; it's a little bit sad and might be too much for very young children, unfortunately. But if you're looking for a beautifully filmed, well-told story to watch with your older kids on a rainy afternoon, Christopher Robin might be just the ticket for you. It's sweet and melancholy and maybe just a touch sad to see Pooh's best friend Christopher Robin (played by Ewan MacGregor) all grown up.
Things look a little different for Christopher Robin and the gang from the Hundred Acre Woods this time around, as noted in the film's synopsis:
Christopher Robin — now a family man living in London — receives a surprise visit from his old childhood pal, Winnie-the-Pooh. With Christopher's help, Pooh embarks on a journey to find his friends — Tigger, Eeyore, Owl, Piglet, Rabbit, Kanga, and Roo. Once reunited, the lovable bear and the gang travel to the big city to help Christopher rediscover the joy of life.
This movie focuses much more firmly on the idea of Christopher Robin as a real person, which makes sense because, as adults know, he was. Winnie The Pooh creator A.A. Milne's son was named Christopher Robin, as Time reported, and this exclusive clip from Disney tells the story of how Winnie the Pooh got his famous name.
As the clip explains, Christopher Robin "was an adventurous little boy who loved animals" and "had a big imagination". Little Christopher Robin was given a teddy bear he loved for his first birthday, who he initially called "Edward." Not Pooh... that came later.
Christopher Robin liked visiting the London Zoo, as the story goes, and there was a Canadian black bear called Winnipeg after the Canadian city in Manitoba — "Winnie" for short — and the bear was reportedly so gentle that zookeepers let children play with it.
As for the "Pooh" part, this apparently came about when a swan didn't want to play with Christopher Robin at the park. Apparently he said "Pooh" which sounds like a kid version of a swear word.
And so, "Winnie the Pooh" was created.
Christopher Robin will be available on DVD and digitally on Nov. 6. Maybe knowing a little background behind the real story of the boy and his beloved bear will get your kids interested in watching it together.
Not a bad way to spend an afternoon.