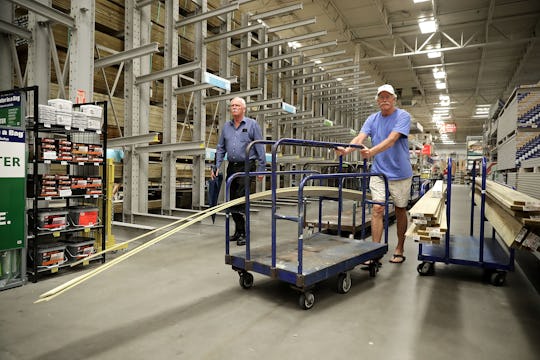 Chip Somodevilla/Getty Images News/Getty Images
The Reason A Florida Man Gave A Woman A Free Generator Will Make You Sob
People show you who they really are in a crisis. The masks slip, the veil is pulled back. And we finally know each other for sure. As the southern hemisphere is relentlessly battered by natural disasters (hurricanes, wildfires, earthquakes) it can sort of feel like the world is ending. And then, there's this brief shining little moment of hope. A small kindness that reminds us; we are still here, and so many of us are still just so deep down good it hurts. This Florida man who gave a crying woman his generator is just such an example of perfect kindness.
As the people of central Florida brace for Hurricane Irma, the massive Category 4 tropical storm that has already wreaked havoc across the western Caribbean and into Cuba, stores have struggled to keep up with supplies. Five million people were already under a mandatory evacuation order by Gov. Rick Scott when Irma made landfall in Key West on Saturday morning. The residents who are not evacuating have been dashing from store to store looking for supplies to get them through the storm, things like plywood, water, gas cans, and generators. Unfortunately, they've been coming up against empty shelf after empty shelf. This was the case for Orlando resident Pam Brekke; according to a report by WFTV, Brekke was frantic to find a generator for a very important reason; her father is on oxygen.
She thought she might have some luck at a Lowe's store in Orlando which received a surprise shipment of 216 generators on Thursday; they sold out in two hours. When she saw the empty shelves, she understandably broke down in tears. This had happened to her time after time; she would run into a store and stare at empty shelves. And that's when Ramon Santiago saw her. He approached her without any idea why she was crying, and offered her the generator he had just purchased. He hugged her, gently patting her on the back and whispering, "Everything is going to be OK."
Brekke sobbed into his shoulder, and as he walked away she said, "That's a beautiful man right there."
And so he is.
Nancy Alvarex of WFTV spoke to Santiago afterwards, and his explanation was simple:
She need the generator. It's Ok. No worry for them.
Brekke had this to say about the exchange:
I'm very overwhelmed by that man. That gentleman was a great gentleman right there. God will bless that man.
As though that remarkable moment wasn't enough, it gets better; when a generator became available at the Orlando Lowe's a few hours later, the store manager contacted Santiago and offered it to him free of charge.
Because kindness creates kindness. And generosity creates generosity. And it turns out there are still plenty of good people on this planet.
Here's hoping they all stay safe.