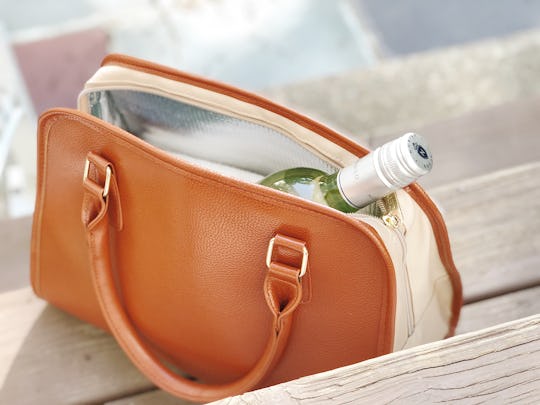 Wild Eye Designs
This Super Cute Purse Is Also A *Fully* Insulated Cooler & It's A Mom Dream Come True
I love a good picnic in the park. My son and I make sandwiches, pack up our picnic blanket and bluetooth speaker, and we lay out in the park with our dog, playing soccer and listening to country music. It's a sweet little escape from the hustle and bustle of city life. But how much sweeter would it be with a little chilled beer? Hint: a lot sweeter. Which is why I need this fully insulated cooler purse — the stuff of mom dreams. Whether you just want to bring some chilled wine for an evening picnic or if it's your turn to bring the orange slices to the kid's soccer game, here is a product that is about to change your life.
Meet the fully insulated cooler purse from Wild Eye Designs. While having an attractive and fashionable design, you can wear it as an actual purse while using it as a cooler to keep food and beverages cool on those hot summer days. Perfect for the beach, a ball game, or a picnic, there are so many style options and sizes to meet your needs. Plus you can feel good about your purchase because all their products are vegan and cruelty free. Winning.
Let's be honest. Mom life requires us to lug around 50 million things any time you want to leave the house. Raise your hand if you've ever felt personally victimized by the "mom carry" — AKA carry-all-of-the-things 24/7 *insert hand raising emoji person here*. This champagne tote (above) is great for the beach or an outdoor outing with the kids because it's big enough to hold two bottles of wine (hell yes!) and all your beach accessories. You can find this design for $36 on alwaysfits.com. They also have it in this cool holographic color so you can bring our your inner unicorn or a classic white marble design.
Or how about this super cute Retro Tan Tear Drop Tote (above) for the mom who just needs a little wine today (we've all been there), or the working mom who needs to keep her lunch cold or warm for hours and can't deal with another bag. This design looks super cute as a regular handbag, too, so you can use it for your everyday. Find it here for $40 on alwaysfits.com. They also have it in red and silver.
I love the bowling style bags, too. This white marble bowler can be used as a lunch box or a purse and matches with almost anything. You can find this design on alwaysfits.com or check out the black marble option here. If you're not a marble fan, not to worry. They also carry it in a purple taupe stone color as well as grey or my favorite, rose gold.
It's clear these insulated purses are stuff made from mom dreams. My kid refuses to drink warm water, or even water that is room temperature, so having an insulated purse to keep his water bottle cool at the beach is a necessity for us. Whether you want to keep the kid's snacks cool on a long road trip or a family hike on a warm day, there's something for everyone with these super cute bags. (Plus, no sacrificing style. Major win.)