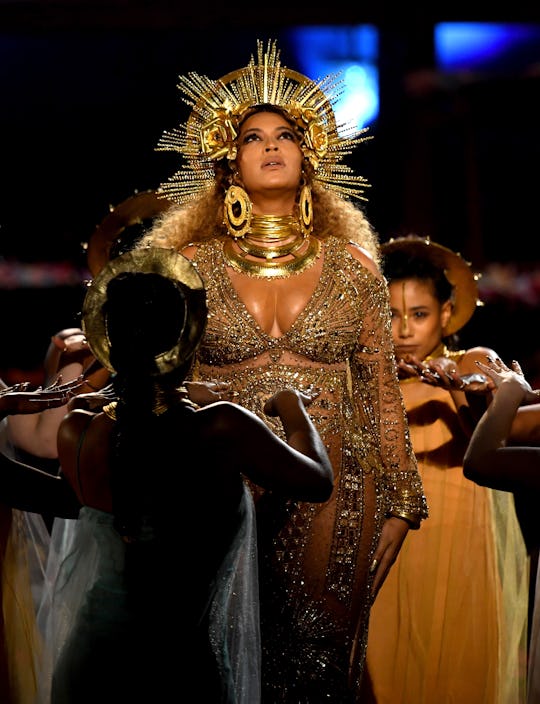 Kevin Winter/Getty Images Entertainment/Getty Images
This GIF Of Blue Ivy Cheering On Beyonce Is Fab
Earth-shatteringly powerful, Beyoncé's Grammys performance earned her a standing ovation. One face in the audience looked especially proud of the golden star, and it just happened to be a member of Bey's own family. This GIF of Blue Ivy cheering for Beyoncé is pretty much the sweetest mother-daughter exchange possible — you'll want to watch it on loop.
Singing two songs from her newest album Lemonade, "Love Drought" and "Sandcastles," Beyoncé's performance was stoic as could be. The soon-to-be mother of twins, flanked by other goddess-like women and a stage full of flowers, highlighted her round belly while sporting a gold crown.
Beyoncé made everything seem so easy and seamless as she sang, but this was apparently not at all the case; the logistics behind Beyoncé's Grammys performance were actually quite complex. Not only did the nine-minute act necessitate more than two dozen dancers, but "it also incorporated the interplay of Beyoncé in the flesh with film footage of her pregnant form projected onto a scrim during the number," according to The Los Angeles Times. Part of this interplay actually included Blue Ivy herself, as one clip showed Blue Ivy running in circles around her mother.
All of the effort, including the hours of rehearsing insisted upon by Queen Bey, absolutely paid off. The crowd really could not have been more moved by what she brought to the table, and Blue Ivy was no exception to the enthusiasm. With Jay Z's hands on her shoulders, Bey's firstborn clapped, a huge, close-mouthed grin on her face. Tina Knowles, who'd announced Beyoncé's performance just beforehand, applauded close by. See the sweetness below:
You'll also notice Blue Ivy's flashy outfit in the GIF above, which was another big star of the night. Dressed like Prince in a pink suit and ruffled shirt, her outfit was a heartfelt nod to the late pop star, who was a close friend and peer of Beyoncé's. Blue Ivy added her own spin on the look, accessorizing with a hot pink, sparkly purse.
Seeing that her mother had the most Grammy nominations this year, Blue Ivy (and Jay, too) had plenty to be proud of. At the end of the night, she took home two new awards, one for Best Urban Contemporary Album and the other for best music video. Though Beyoncé didn't win a few of the awards that she was nominated for, all of the artists lauded her impact — family included.