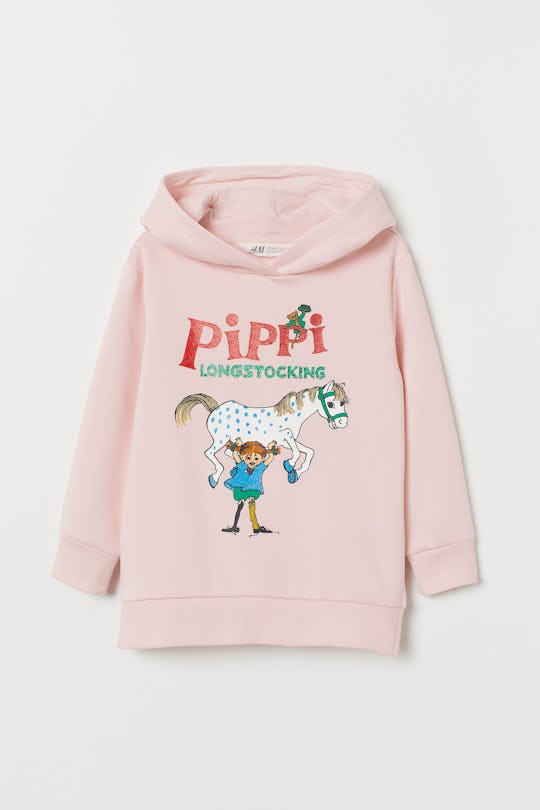 I Need Every Perfect Item In This Pippi Longstocking Collection From H&M
One of my favorite movies when I was a kid was The New Adventures of Pippi Longstocking. I watched it at least twice a week, and it inspired me to read the book, too. But now this H&M Pippi Longstocking collection has me totally pumped. It's perfect for kids who have a longing for independence and adventure, and who are full of courage, a positive attitude, and a lot of spunk. Or you know, for kids who are just as obsessed with Pippi Longstocking as you were back in 1988.
Guys, this collection even has costumes where you can ride Pippi Longstocking's horse Little Buddy, or actually become Pippi with a headband that has her iconic red braids sticking straight out. And there's even a Little Buddy backpack. I can't. In addition to the amazing costumes, there are striped mismatched tights that Pippi most definitely would have been a fan of, sweatshirts, pajama sets, dresses, t-shirts, headbands, and more. All this collection needs are some aprons that are filled with colorful patches that aren't a costume — but for everyday wear — and perhaps a Mr. Wilson monkey to tag along as a BFF.
There's something for every kid's taste in this collection — and their dad doesn't even have to be the cannibal king to buy them. Oh, and you can leave your gold coins at home, too. Also, can H&M please make this collection for adults? I'd totally rock some Pippi-approved tights and a Pippi sweatshirt or tee.