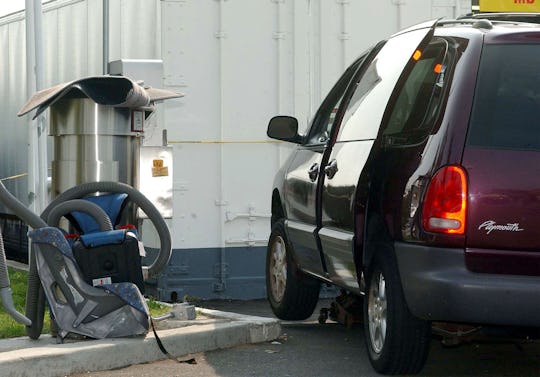 Mark Wilson/Getty Images News/Getty Images
This Handy Car Seat Chart Will Ease Your Worries
Ah, car seats. Most parents have a love/hate relationship with them. They keep children safe, which is obviously hugely important. But the installation of said car seat can leave even the most confident of parents paralyzed with feelings of inadequacy. Thankfully, the American Academy of Pediatrics', or AAP's, handy chart on car seat safety should assuage most of the panic and give parents room to worry about the million or so other problems running through their brains.
The AAP recently released its latest car seat safety guidelines, including what sort of car seat your infant should be using based on age and weight, helpful tips on the LATCH (lower anchors and tethers for children) and seat belt testing, as well as answers to frequently asked questions. Here is the general car seat guideline recommended by the AAP for your child:
Rear-facing car seat (or a car seat that converts from rear-facing to forward): Infants and toddlers two and under should always ride in a rear-facing car seat, or at least until they reach the maximum weight/height restrictions shared by their manufacturer.
Toddlers and preschoolers should ride in a convertible or forward-facing car seat with harness until they reach the maximum height/weight.
School-aged children under four feet nine inches should ride in a booster seat, typically until they reach ages eight through 12.
Older children who have outgrown their booster seat should obviously wear seat belts, and all children under 13 should ride in the back seat.
While it's all well and good to have the fundamentals of car seat safety guidelines, installing the car seat is more than half the battle (if you don't count trying to wrestle a screaming toddler into their car seat, because that's considerably worse). The CDC shared a helpful chart to help parents figure out car seat installation as well.
A properly installed car seat can be the difference between life or death in the event of a car accident, and the CDC has also shared some sobering statistics about car seat safety:
In 2014, restraint use saved the lives of 252 children ages 4 years and younger.
Car seats reduce the risk of death in car crashes by 71 percent for infants and 54 percent for toddlers ages 1 to 4.
Booster seats reduce the risk for serious injury by 45 percent for children ages 4 to 8 years.
Between 1975 and 2014, child restraints saved an estimated 10,673 lives of children ages 4 and younger.
Hopefully, these charts will help ease some of the car seat anxiety for parents out there, because being a parent is enough anxiety on its own.