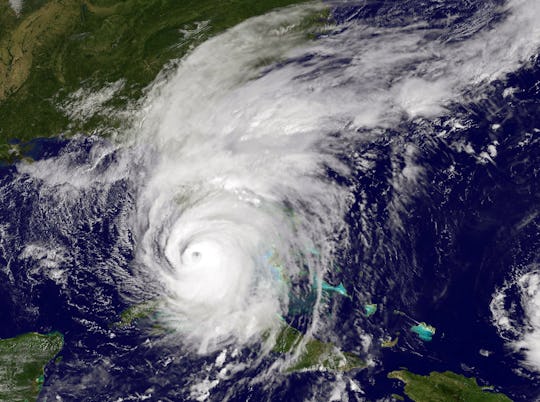 Handout/Getty Images News/Getty Images
This Hurricane Tracking Website Will Show You Where Irma Is Right Now
Hurricane Irma is quickly becoming one of the most powerful storms to ever hit the eastern coast of the United States. After making landfall in the Florida Keys with Category 4 winds, the storm now seems to be moving towards the state's west coast. And since this storm has been fairly unpredictable thus far, this Hurricane Irma tracking website allows viewers to follow along with the storm and see where it is in real time as its path continues.
The most recent reports from The National Hurricane Center have Irma's trajectory steadily shifting to the left, according to The Washington Post. The few miles of westward change will have Irma's eye landing in St. Petersburg or Tampa, rather than its anticipated destination of Miami.
The outer leading edge of the hurricane made landfall in the Florida Keys on Sunday with Category 4 winds up to 130 mph. As the center of the storm moves over the warm waters of the Gulf of Mexico, it is expected to regain strength once again before reaching land, as NBC News reported. This could mean St. Petersburg and Tampa will be hit with Category 4 or even Category 5 winds.
One million Floridians have already been left without power due to the storm, but forecasters warn that Irma is nowhere near finished. Irma is expected to create life-threatening storm surges as tall as 15 feet along southwestern Florida and other coastal areas.
Officials have emphasized that St. Petersburg and Tampa have been spared the full impact of a hurricane for almost 100 years. These western cities were not in the storm's earlier projected paths, which may have led to lack of preparation and evacuation. According to TIME, the last time this happened was in 1921. Dennis Feltgen, a spokesman for the NHC, told TIME that at that time, there were only around 10,000 people living in the area — a number which has since risen to around 3 million residents.
If the storm does continue to head towards St. Petersburg, it would likely reach Clearwater, then inland, northwest of Ocala. Most recent weather reports of the storm state that its current top sustained winds are 120 mph (193 kph) and it is moving northward at about 6 mph (10 kph).
The sudden change in direction seems to have caught many Floridians off guard. According to TIME, a number of last-minute evacuations took some people out of the Tampa area, but many businesses and residences still remain unprepared for the coming storm. While Florida's west coast was included in Irma's zone of probability, the lack of a projected direct hit led many to underestimate the impact in that area.
Sudden changes in direction are par for the course with hurricanes, making storm tracking websites — such as that provided by The Weather Channel — all the more useful and important while Irma concludes its path.
Check out Romper's new video series, Romper's Doula Diaries: