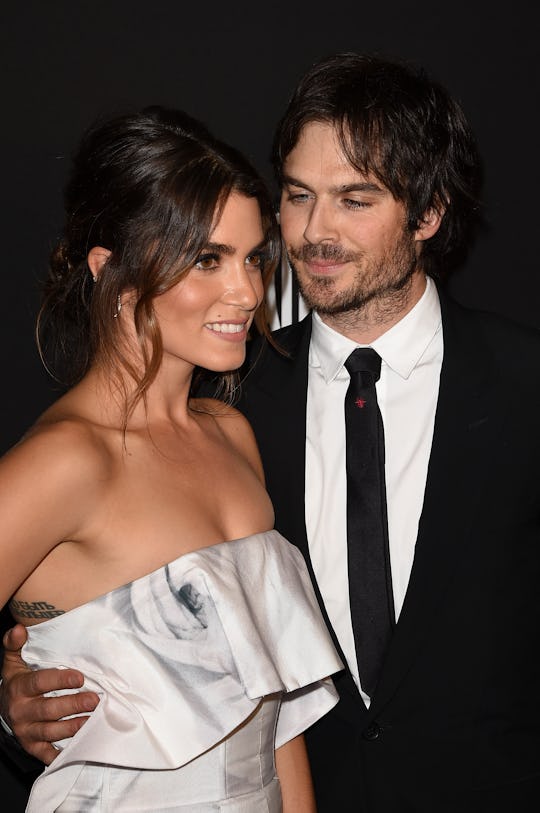 Jason Merritt/Getty Images Entertainment/Getty Images
Ian Somerhalder Secretly Threw Out Nikki Reed's Birth Control So They Could Have A Kid
Ian Somerhalder and Nikki Reed welcomed a baby girl, Bodhi Soleil, this summer and all seemed right with the world. But according to a recent interview on the Informed Pregnancy podcast, it was all sort of by chance... or at least the result of a lot of sangria, by their own admission. As it turns out, Ian Somerhalder and Nikki Reed decided to have a family when the Vampire Diaries star threw out all of her birth control pills after having dinner with friends.
Yea, that sounds like a less than ideal way to procreate in some circumstances, but the couple joked about it on the podcast, since it is a pretty stark way to tell your partner that you're ready to have a baby.
Somerhalder explained on the podcast that they were in Barcelona with some friends and decided that they all wanted to have children at the same time so that their chosen family would be all that larger. So, he explains, "unbeknownst to Nikki," he went into her purse and popped out all of the pills, basically making the decision for the couple that they would start trying to get pregnant.
Reed joked on the podcast that she initially freaked out while watching her husband flush her pills down the toilet in Spain, as their other couple friends took video and egged them on, as The Cut reported. But in the end, it all went as planned. Somerhalder shared that their friends conceived "that night," and now baby Bodhi and their BFF's baby are just four or five months apart. So the plan worked after all.
"Actually, now thinking about it, I guess I kind of decided [to start a family]," Somerhalder said, with Reed chiming in that that was sort of necessary given their couple dynamic. Sometimes, like they say in the new This Is Us trailer, one partner has to push the other one along to meet their #CoupleGoals.
Sometimes you just got to go for it.
Somerhalder and Reed seem to be totally in tune with each other about most things. When it came to the birth plan, the couple decided to make sure that they always did what was right for them. Reed said on the podcast that she didn't have any morning sickness, which was pretty sweet, but she was a little torn up about the birthing plan.
Her main beef? Way too many opinions coming from all over the place.
"I think the thing that plagued me the most, actually, was the medical industry. Just all the rules and guidelines and paranoia, and all the things they put into your head about what you could possibly do wrong," she said on Dr. Berlin's podcast.
Initially, Reed said she wanted the birth to be as naturally as possible. "A home birth with no lights, no one talking, no intervention of any kind. I wanted to be peaceful, quiet, alone," the new mom said, according to E! News. At the end of the day, Bodhi was born in a hospital, but everything went just as almost-planned. It was quick at least — Bodhi was born just three hours after Reed and Somerhalder showed up to the hospital, according to E! News.
She said of her labor, during the podcast, "It was just intense, intense, intense. I kept thinking, 'This is only the beginning.'" Which, in all realness, is probably the most sane thing a woman can think as she's giving birth. It really is just the beginning.
The couple took a month hiatus from work and social media after little Bodhi came into the world, but it sounds like they're back in action and are clearly already loving being parents.
Watch Romper's new video series, Romper's Doula Diaries:
Check out the entire Romper's Doula Diaries series and other videos on Facebook and the Bustle app across Apple TV, Roku, and Amazon Fire TV.