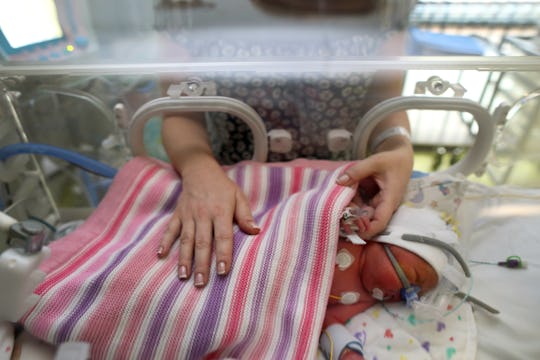 Christopher Furlong/Getty Images News/Getty Images
NICU Costs Under The BCRA Would Be Unimaginable
New health care legislation has expectant parents worrying about the unknown costs that might arise when their big day comes. Recent analysis shows that, due to a number of proposed changes, parents might have to foot the whole bill should their baby need immediate emergency care. In case you're wondering, here's how much a NICU stay will cost under the BCRA, because it's an amount that would spell disaster for pretty much anyone.
Though the American Health Care Act (AHCA) has already passed in the House, Republican-backed health care reform still has a few more mountains to climb, including passing the Better Care Reconciliation Act (BCRA) in the Senate. Both the BCRA and the AHCA loosen coverage requirements for insurers so that some needs, however vital, might not be met.
President and CEO Bruce Siegel, MD, of America's Essential Hospitals is concerned about implications of the Senate bill, suggesting that the BCRA "might be worse" than the AHCA. "This bill might even accelerate decisions by some to reduce services or close their doors," Siegel said, according to Becker's Hospital Review. If hospitals are forced to close, "this could leave many people without local sources of lifesaving services, such as trauma, burn and neonatal intensive care," he added. So before parents start to worry about whether or not they'll even be able to afford a life-saving stay at a neonatal intensive care unit, they'll have to be able to locate one first. Under the BCRA, it's likely that fewer resources would be made available.
Access aside, there are two ways parents might have to foot a huge NICU bill under the BCRA. The first has to do with the Medicaid cuts written into the bill — cuts so drastic that Dr. Jonathan Davis, the chief of newborn medicine at Tufts Medical Center, questioned, "Where in this bill is the protection for children?" A whopping 60 percent of Tufts NICU patients are covered by Medicaid, and a large portion of those needy parties could lose funding. In its fine print, the Senate's bill would keep Medicaid at a standard inflation rate, not the much higher medical inflation rate, relinquishing an inadequate amount of funds.
Another big issue inhibiting coverage? Lifetime caps that put a limit on the number of funds allotted per person. An infant's lengthy stay in the NICU could exhaust all of the money given from an insurer, period — even before the baby's discharged. After an NICU stint, families would have to pick up all of their child's future medical bills, without any required help.
So let's assume, then, that the BCRA passes and parents are without Medicaid funding. How much would an NICU stay cost out of pocket? As Managed Care Magazine estimated,
The average cost for infants hospitalized in neonatal intensive care units is around $3,000 per day. While the average cost to an employer of a healthy baby born at full-term, or 40 weeks of gestation, is $2,830, the average cost for a premature baby is $41,610. If the baby is born at 26 weeks, the cost can quickly rise to $250,000 or more.
$250,000 isn't unheard of. In fact, parents report NICU bills of $750,000 and higher. For so many families, this is an unimaginable, life-altering amount.
According to The March of Dimes, the length of an average NICU stay hovers at around 13.2 days. That's an average total of $39,600, not even factoring in the pregnancy and birthing costs. In expecting families to come up with that kind of money while providing them with no other option, the BCRA puts babies at extreme risk, not just in their first months of life but also much further down the road.