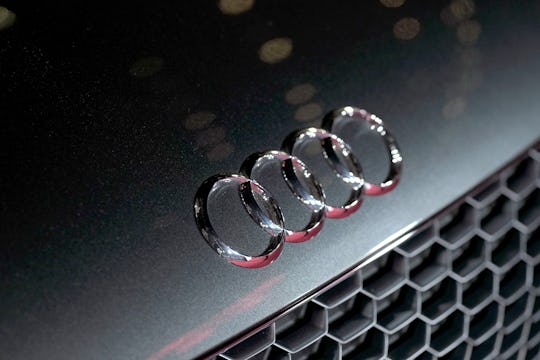 Chris Weeks/Getty Images Entertainment/Getty Images
Parents Should See This Super Bowl Commercial
Super Bowl Sunday is coming and that means all the big brands have already begun sharing their Super Bowl commercials across social media. There have been plenty of memorable Super Bowl ads, everything from Google's annual tearjerker to Mountain Dew's nightmare-fueled Puppy Monkey Baby. But this year, it's Audi, the German carmaker, who has put together what is quite possibly the most important Super Bowl commercial ever. Perhaps taking a cue from Patricia Arquette's 2015 Oscar acceptance speech, the Audi Super Bowl ad focuses on equal pay for equal work. It's an unprecedented and inspiring commercial that feels like it was made right off the heels of the Women's March nearly two weeks ago. The fact that it's a car commercial is even more astounding.
The minute-long commercial, titled simply "Daughter," shows a father cheering on his daughter in a downhill derby race, as she speeds to the finish line. As he watches, the father asks himself a series of profoundly difficult questions that any parent of a daughter must be asking themselves:
What do I tell my daughter? Do I tell her her grandpa's worth more than her grandma? That her dad is worth more than her mom?
The questions are jarring in their candor, especially in the current political climate. You immediately get caught up in the important message of the commercial rather than worrying about what they're trying to sell you (it's the 2018 Audi S5 Sportback, which gets about two seconds of actual screen time) Truly, the car feels like an afterthought.
The father's voiceover continues:
Do I tell her that despite her education, her drive, her skills, her intelligence, she'll automatically be valued as less than every man she meets.
Or maybe, I'll be able to tell her something different.
Remember, this is a Super Bowl ad. It's almost hard to fathom, right? The ad then cuts to black and overlays the Audi logo in white, with just these few sentences:
Audi of America is committed to equal pay for equal work. Progress is for everyone. #DriveProgress
The commercial features Audi's #DriveProgress website, which further describes the German carmaker's commitment to equal pay, and how it plans to work with other organizations that work to advance equal pay for all Americans.
What makes this commercial from Audi so important isn't its creative genius from the advertising team at Venebles Bell & Partners — it's that it isn't just some vapid product placement. Audi has an important message it wants to get across to one of the biggest television audiences of the year: Super Bowl 50 drew in 114.4 million views last year. Not only that, but Audi is clearly putting its money where its mouth is — why else would the company shell out as much as $10 million for a 60-second Super Bowl ad? That's a pretty expensive gamble just to try and appeal to women drivers.
Watch the Audi Super Bowl ad in full below.
With Trump as president, billion-dollar companies could just roll with their new business-friendly overlord — but not Audi. In a growing climate of renewed progressive activism in the Age of Trump, perhaps Audi's equal pay Super Bowl ad is the first step in businesses bringing new meaning to "corporate responsibility."