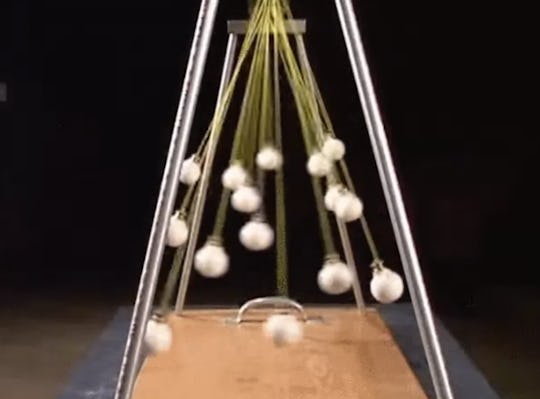 This Is The One GIF You Will Never Be Able To Stop Watching, & 8 Other GIFs That Come Close
The GIF is arguably one of the greatest things the Internet has ever produced, giving us the ability to, among other things, articulate exact feelings without using a single word (because honestly, who has time to formulate complete sentences anymore, amirite?). From GIFs that showcase exactly how you feel when you watch the Victoria Secret Fashion Show, to GIFs that are so '90s it physically hurts, these moving graphics are used to convey emotion, create social commentary, and pass the time during a boring work day because sometimes there's just nothing else to do but search for the perfect reaction GIF for 45 minutes.
And now you can add "mesmerize you for hours on end" to the list of potential GIF uses, because this one GIF is taking over the internet and everyone is powerless to look away.
It seems simple enough: A set of steady hands holds a wooden board underneath a number of suspended white balls. The board is then removed, and then balls fall into this mystical, magical pattern of wonder and delight that pulls you in like an alien tractor beam (or, you know, that's how others have described it to me. It's not like I stared at the thing for half an hour. No way. Definitely not. I totally have a life, and friends, and important things do to, and also I'm lying; I have none of those things, and I might die watching this GIF.)
And while this particular GIF is insanely enchanting, it's not the only one who can leave you staring at your computer screen for a semi-embarrassing number of hours. Here are a few of our favorites that pretty dang close to being just as fascinating.