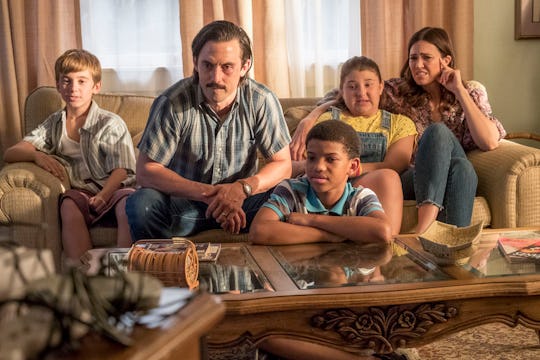 Ron Batzdorff/NBC
'This Is Us' Was Snubbed During The Golden Globe Nominations
The 76th annual Golden Globe Awards don't air until January, but the nominations are in and some of television's top shows didn't make the cut, including NBC's This Is Us. The tear-jerking family drama has likely kept tissue companies in business since its premiere in 2016, but This Is Us didn't get any Golden Globe nominations and Twitter is not OK with it. When I say it didn't get any nominations, that means it wasn't nominated in any of the categories, including those for lead or supporting actors. It was a bona fide snub and fans are in shock right now.
It was nominated for a Golden Globe in 2018 in the Best Television Series Drama category and Chrissy Metz was nominated for Best Performance by an Actress in a Supporting Role in a Series, Limited Series, or Motion Picture Made for Television. Sterling K. Brown actually took home the award for Best Performance by an Actor in a Television Series Drama last time, so for This Is Us to be snubbed with zero nominations came out of left field. This Is Us was also nominated for Best Drama in 2017, and while the show didn't win in the category, it was still recognized for its viewership and fan base. Somehow, this time around, it was overlooked.
It's not like the show has suddenly hit a slump or has started to go downhill. This Is Us is as emotional and heart-warming as ever, so it's hard to pinpoint the actual reason behind this Golden Globes snub.
The 2019 Golden Globes are meant to honor most regularly scheduled TV series from 2017, since the submission deadline was Oct. 31. The Season 2 viewership for This Is Us should have been an indication of the series raking in awards. The much anticipated "Super Bowl Sunday" episode brought in more than 26 million viewers alone. Let that sink in. This snub is very real and fans are in agreement that it's unfair.
It could be argued that, with all of the competing programming on TV and streaming platforms these days, This Is Us was simply overlooked. There's a lot of competition out there and there are only so many spots in the Best Drama Series category. But most fans are in agreement that this was still unexpected.
To be fair, This Is Us wasn't the only series that was snubbed for the upcoming Golden Globe Awards. The Handmaid's Tale was also robbed of a nomination in the Best Drama category. Elisabeth Moss was nominated for Best Performance by an Actress in a Television Series Drama, however, so it wasn't completely ignored.
There's always next year, and the Emmy Awards next summer. As a This Is Us fan, though, you can't help but be almost offended that the Golden Globes failed to recognize what a powerful season the show brought in Season 2 and how much of an impact it's had on viewers.
Last year when Milo Ventimiglia wasn't nominated for a Golden Globe, he told Entertainment Tonight that it didn't bother him. "I like the idea of not being nominated," he said at the time. "It keeps me hungry. I feel like sometimes when people aren't getting the nominations there's this weird perception that somehow it diminishes the work that they do. But I don't think it does." He might feel the same diplomatic way this time, but it doesn't make the snub sting any less for fans.
Regardless of what the big wigs behind the decision process at the Golden Globes think of This Is Us compared to other dramas on TV right now, the show's fan base is as strong and dedicated as ever. I like to think that overshadows the loss of these big nominations just a little bit.
This first-time mom wants to have a home birth, but is she ready? Watch how a doula supports a military mom who's determined to have a home birth in Episode One of Romper's Doula Diaries, Season Two, below. Visit Bustle Digital Group's YouTube page for the next three episodes, launching Mondays in December.