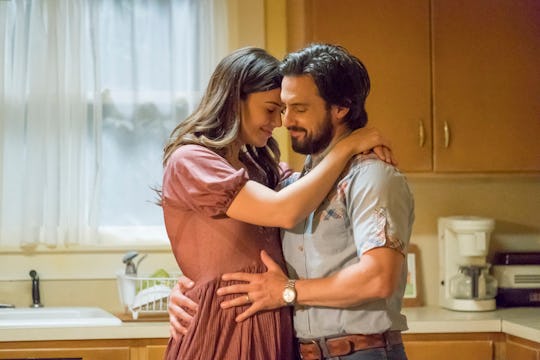 Ron Batzdorff/NBC
Stock Up On Tissues, Because 'This Is Us' Has Finally Announced Season 3's Premiere Date
As fans of the Pearson family know all too well, This Is Us has taken viewers on one heck of an emotional journey, following the trials and tribulations of one family throughout the many stages of their lives. The show is amazing at showing what a real family looks like and, let's be honest, it's a guaranteed tear-jerker. For the past few months, the show has been off the air and fans have been on edge ever since Season 2 wrapped. But luckily, This Is Us Season 3's premiere date has finally been confirmed, so the crying can commence within due time (and fans will have plenty of time to stock up on tissues).
Unfortunately, This Is Us isn't returning for a few more months, but it's sooner than you think. Season 3 will officially start airing on Tuesday, Sept. 25, on the same channel it has always aired on, NBC, according to Entertainment Weekly.
Sure, September feels like months away (three months away, in fact), but it will be back in no time. Between summer vacation, the weekends spent by the pool, and the summer holidays, July and August will fly by, leaving September to be the unofficial month of This Is Us.
NBC knows that fans are counting down the days for the show to arrive back on TV (and have likely already marked their calendars in anticipation for its return). So of course, the network teased fans this with the official announcement of the new season on the official Instagram page for the show. In the Instagram post, a calendar is shown marked with the birthdays of Jack Pearson and the Big 3 (also known as Kevin, Kate, and Randall) in August, followed by the premiere date marked on the next month.
After Mandy Moore, who plays Rebecca on the show, reposted the video to her own Instagram account, fans took to the comment section to share their excitement. "Finally!" one commenter wrote. "Can't wait!" another commenter added. "Yeah, not looking forward to the crying part," one commenter perfectly stated. Those three comments perfectly sum up all of the emotions that go through someone's head while watching This Is Us.
But just when people thought they had something to get excited about, in typical This Is Us fashion, the show had to go on and rip the hearts out of fans with the caption of the Instagram post. "There's no you," the caption states. "There's no me. There's just US." Oh boy... I don't know if I'm ready.
Season 3 of This Is Us already sounds like it is going to be amazing. After being introduced during the finale of Season 2 earlier this year, fans can now expect to see flash forwards in addition to the flashbacks that have been airing throughout the past two seasons of the show, according to Country Living. But if the future of the Pearson family doesn't excite you too much, there is still a lot more of the past that needs to be explored and this season promises to do just that. Season 3 will reportedly focus more on parts of Jack's life that fans had not known about before, according to E! News, including his time that he spent in the war in Vietnam, according to Country Living.
If those aren't enough reasons to get excited about the new season of the show, then I don't know what else is. Between the show's scarily-close-to-real life (and accurate) depictions of families (and how much they change), to the emotions that fans get just from watching the show, there is no surprise that fans are happy to see the show return. In a TV full of shows that are full of fantasy, action, and "reality," This Is Us is a refreshing, albeit very emotional, break from it all.
Now fans can spend their long, hot, summer days catching up on Season 1 and Season 2 before the new season officially starts this fall.