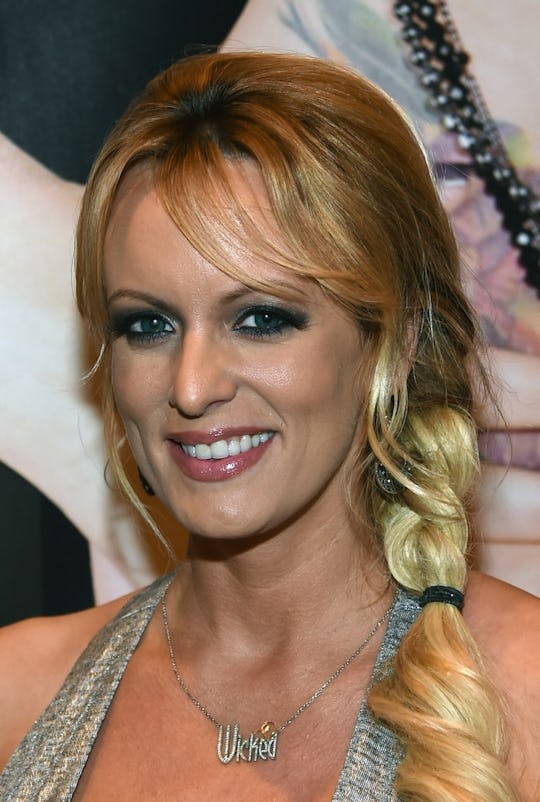 Ethan Miller/Getty Images Entertainment/Getty Images
This Is What's Disturbing About Stormy Daniels' Alleged Encounter With Trump
Once again, President Donald Trump has made headlines for something that, if true, could be incredibly inappropriate. In Touch Weekly recently unearthed a never-before-seen 2011 interview with adult-film star Stormy Daniels, who made allegations about meeting Trump and they are truly disturbing. On Wednesday, the publication published a portion of the 7-year-old interview, in which Daniels opened up about the start of an alleged affair she reportedly had with the president in 2006, four months after Melania Trump gave birth to Barron.
A lot of things about the years old interview are grabbing people's attention, but the comments Trump allegedly made about his daughter Ivanka when meeting Daniels should give you pause. Not only because they're disturbing, but also because they are sadly not out of character for him. "We had really good banter," Daniels reportedly told In Touch Weekly, according to SPIN, about her and Trump's alleged interaction. "He told me once that I was someone to be reckoned with, beautiful, smart, just like his daughter."
As SPIN pointed out, if these remarks indeed happened, Trump was presumably talking about Ivanka, who was 24 at the time, while his other daughter Tiffany was only 11, who he rarely ever talks about publicly. Neither the White House nor representatives for Stormy Daniels immediately responded to Romper's request for comment on her interview with In Touch Weekly.
This is not the first time Trump has made the news for sexualizing his daughter Ivanka, but the latest alleged instance just might be one of the most disturbing yet. In 2006, for example, the same year that Trump's alleged affair with Daniels reportedly took place, he infamously said on ABC's The View that "if Ivanka weren't my daughter, perhaps, I would be dating her." And in 2015, Trump also told Rolling Stone of Ivanka, "Yeah, she's really something, and what a beauty, that one. If I weren't happily married and, ya know, her father..."
Those are just a few examples of Trump making questionable comments about his daughter, which is incredibly inappropriate behavior for any parent or adult, but especially for someone in such a position of power. And if Daniels' encounter and remarks are true, this creepy comment allegedly made about Ivanka is especially disturbing. It's one thing for a father to compare his daughter to a woman who is "beautiful," "smart," and someone to be "reckoned with," but it's an entirely different story when the comparison is linked to someone with whom he allegedly had a sexual encounter.
Twitter Is Pretty Disturbed By The Alleged Comments
In the 2011 interview with In Touch Weekly, Daniels further described the night of their alleged affair. She told the outlet that she met Trump at the American Century celebrity golf tournament in July 2006. She claims Trump asked for her phone number, then later invited her to dinner. When she arrived at his hotel room, he was in pajamas, and they had dinner in his room, allegedly followed by sex. "I actually don't even know why I did it," Daniels told In Touch Weekly of the alleged encounter, "but I do remember while we were having sex, I was like, 'Please, don't try to pay me.'"
Trump also allegedly continually invited her to be on The Apprentice, according to the publication. "We hung out for a little while and he just kept saying, 'I'm gonna call you, I'm gonna call you. I have to see you again. You're amazing. We have to get you on The Apprentice,'" she reportedly told In Touch Weekly. Daniels added in the same interview that she and Trump allegedly met on several other occasions after this reported encounter.
Ethan Miller/Getty Images Entertainment/Getty Images
S. Levin/Getty Images Sport/Getty Images
Daniels and Trump's alleged relationship first hit headlines on Jan. 12, when the Wall Street Journal published a report that Trump's personal lawyer Michael Cohen allegedly organized a $130,000 "hush money" payment to Daniels shortly before the 2016 presidential election. According to the publication, the payment was meant to prevent her from publicly discussing her "affair" with Trump.
In a statement published by the Wall Street Journal last week, Trump's lawyer said:
President Trump once again vehemently denies any such occurrence, as has Ms. Daniels ... This is now the second time that you are raising outlandish allegations against my client. You have attempted to perpetuate this false narrative for over a year; a narrative that has been consistently denied by all parties since at least 2011.
Cohen also shared a statement supposedly written by Daniels, stating, "Rumors that I have received hush money from Donald Trump are completely false."
Should Daniels' remarks have merit, there are a lot of things wrong with this story. Indeed, committing an affair would be messed up, if it's true — but the idea that Trump might have compared someone he allegedly slept with to his daughter, who is not her mother, is quite disturbing. The president has a responsibility to be a good role model for children and every time he is attached to such a questionable and troubling discussion, it's teaching future generations that this kind of inappropriate behavior is acceptable, or worse — leads to power. And it's not.
Check out Romper's new video series, Romper's Doula Diaries:
Watch full episodes of Romper's Doula Diaries on Facebook Watch.