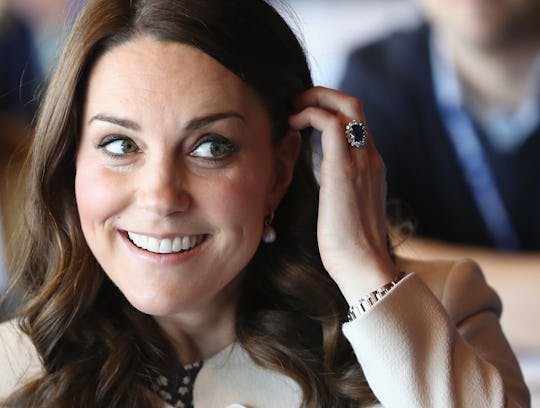 Chris Jackson/Getty Images Entertainment/Getty Images
This New Theory About Kate Middleton's Due Date With Royal Baby No. 3 Is Actually Pretty Solid
If you're like most people, then you're probably a little obsessed with the imminent birth of Kate Middleton and Prince William's third child. There have been so many theories to emerge recently about when the Duchess of Cambridge is due with her baby-to-be. But, if a new theory is to be believed, when Kate Middleton could give birth to the next little prince or princess will happen sometime next week.
Indeed, pretty much as soon as Middleton finished up her last public appearance in March, spectators began to wonder when that third little baby would make his or her grand entrance. Now, though, it's been reported that could happen next weekend, according to Marie Claire UK. Historically speaking — with the births of 4-year-old Prince George and 2-year-old Princess Charlotte — Middleton has taken a 37 or 38-day break between public engagements and giving birth. So, as Marie Claire UK reported, given that her last public appearance was on March 27, many are estimating that she will probably give birth on April 27 or 28 — aka next weekend.
Looking back, Marie Claire UK reported that Middleton finished her last public engagement precisely 37 days before she gave birth to Princess Charlotte on May 2, 2015. Additionally, she went on her maternity leave 38 days before giving birth to her first child, Prince George on July 22, 2013.
So, as preparations are being made for royal baby number three, many are placing their bets on the baby's birth date, hoping for an on-time arrival of April 27 or April 28. Middleton's exact due date is has not been announced by Kensington Palace, nor has the sex of the baby. But, you've got to admit, this latest due date theory is pretty solid, right?
This latest theory is a bit different from previous ones, which indicated that Middleton's due date was April 23, also known as St. George's Day in the United Kingdom. While this latest theory is only a few days later than the St. George's Day theory, it still seems to carry a bit more evidence. Or it could also be totally off. Really, though, there have been so many guesses as to when Middleton's actual due date is, at least one of them will probably end up being accurate.
Indeed, there have been a lot of theories about when Middleton will give birth to her third child — and it makes sense. The royal couple has chosen not to disclose the sex of their third child together, so it's been a pretty intense guessing game on many fronts.
In fact, as early as March 28, royal watchers were filled with excitement as the railings outside the Lindo Wing of St. Mary's Hospital, where Middleton will give birth, were painted, hinting at the hospital's preparations for the upcoming birth, according to ELLE. Then, according to Town & Country, "crowd barriers, and no-parking notices went up outside the building" on April 9. And now, there are actual crowds gathered outside the hospital, just waiting to see Middleton enter the building to give birth.
All of England is patiently awaiting the arrival of the next little prince or Princess, and, as one patriotic watcher told Reuters:
We're here for the great news that Duchess Kate is going to have her third child. And we are ever so pleased, all of us are, all the royal fans, all the people around the world.
The man went on to say that it didn't matter if it was a boy or a girl, the people of England just want a healthy little baby. And, ya know, if that healthy baby was to be born on April 27 or 28, as this latest theory suggests, it would definitely be royally exciting.
Check out Romper's new video series, Bearing The Motherload, where disagreeing parents from different sides of an issue sit down with a mediator and talk about how to support (and not judge) each other's parenting perspectives. New episodes air Mondays on Facebook.