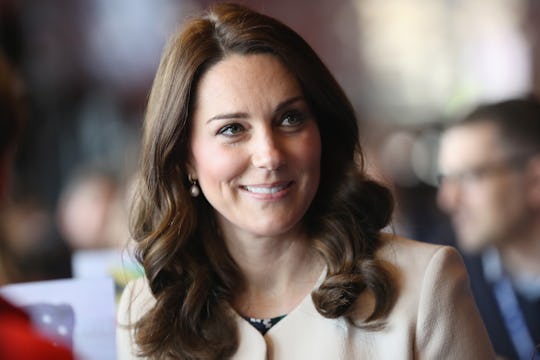 Chris Jackson/Getty Images Entertainment/Getty Images
Kate Middleton's Due Date With Royal Baby No. 3 *Could* Be Right Around The Corner & Here's Why
So much is happening here in the United States that keeping track of all the royal affairs happening across the pond is kind of an impossible task. Especially when there are more rumors than facts out there. But, one thing is certain, and it's that Kate Middleton's due date with royal baby number three is just around the corner. Well, it could be anyways. This latest hint sure makes it seem like it is going to be here sooner than we might all expect.
The famous Lindo Wing at St. Mary's Hospital is getting a makeover right this very second, and since it's where Middleton is expected to give birth, and then make her grand exit flanked by her new baby and husband Prince William by her side, as she has done after the birth of her first two children, according to People. In fact, photos of Middleton leaving the hospital outside of the Lindo Wing after the birth of Prince George in 2013 became so widely spread around that it's hard not to conjure up an image of a glowing Middleton in that blue, polka-dot dress.
So, as People reported, the railing outside of the Lindo Wing is being painted, with a "wet paint" sign up and everything, it only makes sense to assume that Middleton's due date is truly drawing near.
Of course, just painting the outside railing of the building that will be photographed isn't the only preparation that the royal family has made for the arrival of their little one. According to an anonymous source who spoke to Us Weekly, the birthing suite for Middleton has been ready since the middle of March, and "security does regular sweeps of the room, then it's resealed each time with tamper-proof tape." The source added, "It's a high-security operation. Even the crawl space above the room is checked regularly."
Obviously, considering the fact that Prince William is second in line to the throne, according to Newsweek, it makes sense that there would be plenty of precautions for his wife and children. But, still, since the exterior of the hospital is getting some renovations, it seems that Middleton is getting ready to welcome her third baby into the world. But, don't get too excited. People also reported that in the "lead-up to Prince George's birth, there were ladders in position across the road from the hospital doors for at least three weeks before Kate welcomed the baby prince on July 22, 2013."
So really, it could still be a few weeks before Middleton gives birth.
Also of importance is the fact that multiple outlets have already reported that Middleton's due date is on or around April 23. Of course, this due date hasn't been confirmed by Kensington Palace, but if the rumors are true, then the due date is indeed fast-approaching, and it could also mean that Middleton gives birth on an important day in Britain's history. As The Sun reported, "it will come on or around the feast day of the patron saint of England," also known as St. George's Day.
Additionally, the publication also reported that, if Middleton were to be a bit late on her due date, she could actually give birth on another important day: her wedding anniversary to Prince William. "If she's very late, as she was with George's birth, she could even make it a very special wedding anniversary present to William, as they celebrate seven years of marriage on the 29th April," a source told The Sun.
Whatever the case, though, it's obvious that Middleton's due date is very close and it won't be long until another royal heir to the throne is welcomed into the world, freshly painted railing awaiting.
Check out Romper's new video series, Bearing The Motherload, where disagreeing parents from different sides of an issue sit down with a mediator and talk about how to support (and not judge) each other's parenting perspectives. New episodes air Mondays on Facebook.