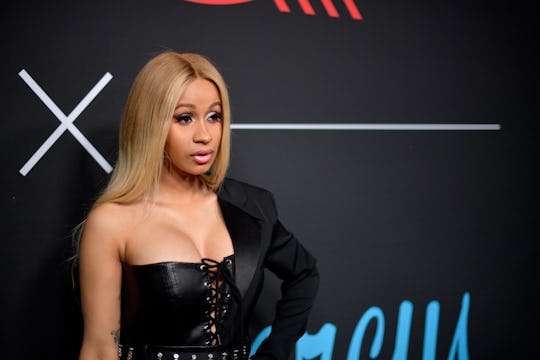 Matt Winkelmeyer/Getty Images Entertainment/Getty Images
This Is Why Cardi B Won't Be Sharing Photos Of Baby Kulture Anytime Soon
Rapper Cardi B welcomed her first child, daughter Kulture Kiari Cephus, on July 10, and though she definitely has her hands full adjusting to new motherhood, her social media updates make it pretty clear that she's loving the fact that her daughter has finally arrived. But as much as her fans might be eagerly awaiting her Twitter updates, there's one thing they probably shouldn't hold their breath for: Kulture's first photo. Even though the "Bodak Yellow" singer has reportedly received lucrative offers from magazines and websites, Cardi B won't be sharing photos of her baby anytime soon for a pretty understandable reason.
Although a magazine photo shoot might seem like a new baby rite of passage for some celebrity parents, TMZ has reported that Cardi B and husband Offset aren't exactly jumping at the chance to introduce their little girl to the world in exchange for a hefty payout. Sources told the outlet that offers for Kulture's first photo "have been in the $100k neighborhood or higher," but it sounds like the new parents would much rather focus on soaking in every moment with their little girl away from the public spotlight. And given that Kulture is literally a newborn who hasn't had any say in the fact that she happened to be born to famous parents? I definitely can't say I blame them for wanting to hold off on introducing her to the world.
It seems like an understatement to say that Cardi B is absolutely on top of her game at the moment: in January, the 25-year-old became the first woman to have five hits in the R&B/Hip-Hop charts at the same time, according to Billboard, and earlier this month, her debut album, Invasion Of Privacy, went platinum after surpassing 1 million units in sales and streams, according to Forbes. But despite her incredible professional success, it's pretty clear that her personal life is definitely her main priority right now.
Despite tying the knot in secret in September, Cardi B and Offset became publicly engaged a month later when he proposed to her on stage, and in April, Cardi B confirmed she was expecting after debuting her growing bump during a performance on Saturday Night Live. And while her pregnancy ultimately meant that she had to cancel her summer tour dates, she doesn't seem at all put off by the notion of balancing her career demands with those of motherhood. When asked during an interview with Power 105.1's The Breakfast Club earlier this year if it worried her that she was set to have a baby right when her career is taking off, according to E! News, she replied:
You know what — I'm a grown woman. I'm 25 years old. I'm a schmillionaire and I'm prepared for this. It just really bothers me and it disgusts me because I see a lot of women online [saying], "I feel sorry for you. Your career is over." Why can't I have both? Why do I gotta choose a career or a baby? Why can't I have both. I want both.
In other words? Cardi B is more than ready to do things her way, and has no time for anyone who wants to judge her for it. And that may very well be the same reason why she doesn't seem to be in any rush to share her daughter's photo with the world: even though Kulture's arrival was a huge, headline-grabbing story, the new mom isn't about to be pressured into opening up this new side of her private life before she's ready, just as she's not interested in being pressured to let her career take a backseat just because she has a child.
And honestly, why should she? As much as she might be totally on top of her game right now career-wise, she has every right to want to maintain her daughter's privacy, as well as her own. And if that means that she'll just be sharing tweets and Instagram photos here and there on her own accord, then so be it.
Of course, not all celeb parents who share their children's photos are doing it for money, or because they don't value their privacy — in many cases, selling exclusive first photos to a magazine or website is one way to try to make it less likely that paparazzi photographers will be vying to snap an unauthorized first shot, possibly by employing some seriously creepy tactics. It's also entirely possible that Cardi B and Offset will share photos of their daughter in time when they feel ready. But for now, it seems they want to keep their early days with their daughter private, and they absolutely deserve to.