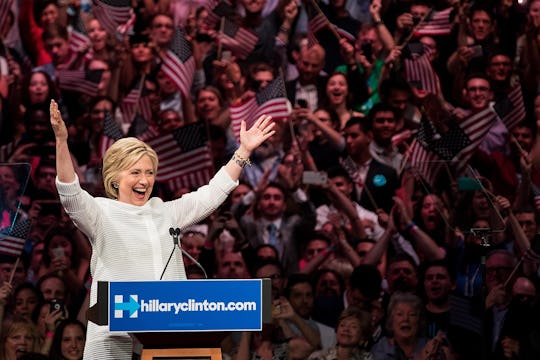 Drew Angerer/Getty Images News/Getty Images
This Is Why Hillary Clinton As The First Female Presidential Nominee Is A Huge Deal
On Tuesday, history was made. After winning the California, New Jersey, New Mexico and South Carolina primaries, former Secretary of State Hillary Clinton has become the presumptive presidential candidate for the Democratic Party. While some supporters of Vermont Sen. Bernie Sanders are feeling a bit burned by the result, here is why Hillary Clinton as the first female presidential nominee is kind of a big deal — it's a pretty huge deal, actually.
Tuesday night was an historic moment for all Americans: Clinton could potentially be the first woman as Commander-in-Chief — the first female portrait down a long hallway of presidential portraits dominated by men up until now. It goes without saying that's a pretty big deal; as much as when President Barack Obama became the first African-American to hold the highest elected office in the United States.
Of course, the key word here is "could." As excited about Clinton as millions of Americans who voted in the primaries seem to be, it's important to remember that she hasn't won the White House yet, and it's a long road until the general election in November. Not least of all, Sanders isn't giving up until the Democratic National Convention in July, despite Clinton's current delegate and superdelegate counts. Even so, here's why Clinton's victory Tuesday night matters so much.
A Woman Really Can Be Anything She Wants to Be In America
How many little girls have said they want to be president when they grow up? I know I did at one point — somewhere in between my dreams of being a UN interpreter, an Egyptologist, or a lawyer. (A law degree? Me? What was I thinking?)
In November 2015, the parenting website Fatherly surveyed nearly 500 children between the ages of 1 and 10 years old and asked them: "What do you want to be when you grow up?" The number one dream job pick for girls? "Doctor," followed closely by "Teacher" and "Don't Know." Sadly, "President" wasn't even on the list. If Clinton wins the general election, perhaps we'll see a tide of change among those dream job aspirations for girls in the United States.
She Has Forged An Inspiring Career Path
From Wellesley College to Yale, Clinton has forged an impressive path of career success. She was the First Lady of Arkansas — twice — when her husband Bill was governor. From there, she became the First Lady of of the United States during Bill's two terms as president. With the dawn of a new millennium, Clinton successfully campaigned for and won a U.S. Senate seat in New York. After losing her first presidential bid to Obama in 2008, she became his Secretary of State. Clinton can already check the "made history" box for becoming the first female presidential nominee, and there's a good chance she could tick it again for first female U.S. president.
She Could Make History Again With Her VP Pick
If Clinton picks another woman to join her ticket — wink, wink, nudge, nudge Massachusetts Sen. Elizabeth Warren — she's poised to make history again by putting forth an all-female presidential ticket. I kind of can't wrap my brain around how progressive, awesome, and generally astounding that would be. While there's been no word yet on Clinton's vice-presidential pick, many are hoping Clinton will pick Warren to be her running mate this fall. (But don't get your hopes up: plenty of politicos are saying Warren as VP isn't going to happen, too.)
She's Got A Tough Fight Ahead Of Her
It's easy to get caught up in the rush of excitement of Clinton's history-making moment Tuesday night by becoming the presumptive Democratic presidential nominee. With billionaire "seriously, this wasn't some elaborate prank?" Donald Trump as the presumptive Republican presidential nominee, Clinton is in for the fight of her life to win the general election in November. Trump hasn't been shy about slinging mud, either. Trump gave his opponents "catchy" nicknames like "low-energy Jeb Bush," "Little Marco Rubio," and "Lyin' Ted Cruz" on Twitter. Trump has called her "Crooked Hillary" on his Twitter feed and continues the social media drumbeat of distorted narratives about his opponents.
As the women of America — and really, as every American should — bask in the glow of such an historic moment for women in politics, let's remain cautiously hopeful and optimistic that come Nov. 8, the majority of Americans say #ImWithHer (assuming superdelegates don't change their minds like Sanders supporters claim) and usher in Clinton as the first female U.S. president, because many can't afford a Trump presidency.