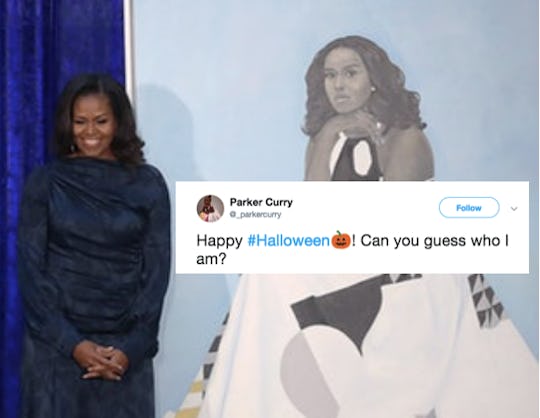 Mark Wilson/Getty Images News/Getty Images/ @_parkercurry/ Twitter
A Little Girl Dressed As Michelle Obama's Portrait For Halloween & It Was Ah-Mazing
It's always pretty tough trying to come up with a Halloween costume that ticks all of your internal boxes, even when you're a little girl. You want to pick a costume you love that also tells people you're strong, intelligent, dedicated, and fearless. If this sounds like you, look no further for your next costume idea than this little girl who recreated Michelle Obama's portrait for her Halloween costume. She did such a killer job that the former first lady herself gave her the social media nod of approval.
Little 3-year-old Parker Curry has always been a fan of Michelle Obama, according to CNN, rather famously so, in fact. Back in March, if you recall, a picture of a little girl gazing in wonder at Michelle Obama's official portrait at the Smithsonian National Portrait Gallery went viral, as People reported. And with good reason: How often do you see a preschooler standing still in front of a portrait of a political figure (or anyone, for that matter) in quiet reverence?
It was a stunning, sweet moment to see a little girl literally looking up to a woman who has made a career out of helping little girls learn and grow however she can.
At the time, Parker's mom Jessica Curry told BuzzFeed News that she has made it a priority to expose her daughter to female role models she can identify with on a personal level. "In the world we live in today, I'm just trying to raise a little girl who has opportunities to see women who look like her doing great things," she told BuzzFeed News.
After the photo — which was taken by Ben Hines of North Carolina, according to HuffPost — went viral, Parker had the chance to meet Michelle Obama face-to-face later that month. The two kept it pretty casual, enjoying an impromptu little dance party to Taylor Swift's "Shake It Off."
Obama shared a clip of their afternoon together on Twitter with the caption: "Parker, I'm so glad I had the chance to meet you today (and for the dance party)! Keep on dreaming big for yourself...and maybe one day I'll proudly look up at a portrait of you!"
Parker clearly has not forgotten meeting Michelle Obama. When her mother asked her what she wanted to be for Halloween, the little girl didn't hesitate. As Jessica Curry told BuzzFeed: "Flat out. No hesitation. Half of a second later: 'I want to be Michelle Obama,' and I was like Whoa."
The girl wore a dress that was a miniature copy of the Milly couture gown worn by Obama in the photo, made specifically for her by Magnolia Children Clothing Company in New York, according to CNN. And she clearly pulled off the look to perfection because her inspiration couldn't help enthusing about the heartwarming homage on Twitter.
The dress was apparently a hit with everyone, including Parker who "got giggly" when she saw the dress, as her mom told CNN. And as for the rewards? Jessica Curry told CNN that "she got way too much candy."
Well deserved, Parker. Keep on doing your thing.