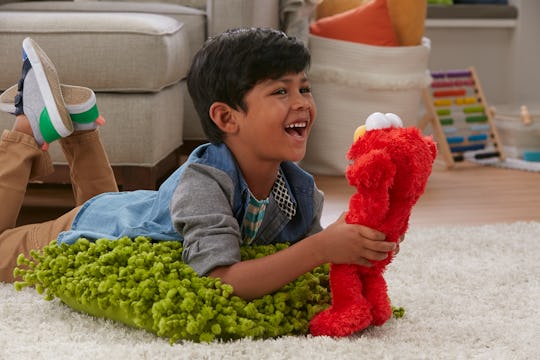 Hasbro
This New Elmo Toy Gives Actual Hugs, & Your Kids Are Going To Fall In Love
This year's Toy Fair in New York City featured some new and improved revisions of classic fan favorites, including the character every kid loves from Sesame Street — Elmo. Elmo toys are nothing new; I think everyone can remember the Tickle Me Elmo craze. But this time, Elmo isn't asking for tickles — he's asking for hugs. The Love To Hug Elmo doll is all about the love, and fans everywhere can't wait to get in on some cuddles.
There's no denying it — kids love Elmo. Since the furry red puppet's debut on Sesame Street back in 1980, kids everywhere have fallen in love with the endearing character, making him one of the most beloved children's TV personalities. He even appears in the National Museum of American History in Washington, DC. So it's no surprise that companies have been capitalizing on the Elmo character since Tickle Me Elmo in 1996. Kids love the familiar character, and they love interacting during playtime, which makes this new Love to Hug Elmo doll the perfect gift for your little Elmo lover.
Elmo toys have always done well — the Tickle Me Elmo doll sent buyers into a craze with "sellers asking up to $1,500 by the end of 1997" according to ABC. But there's been more than just that one iconic toy. Fan favorites like Tickle Me Elmo, Let's Rock Elmo, Chicken Dance Elmo, and even the Elmo Tickle Gloves — remember those? — have been dominating the Christmas game for two decades, according to an article on Quartz. Elmo's success speaks for itself.
According to Parents, last year's Let's Dance Elmo toy won the Best Toys of 2018 award, and this new 2019 version of Elmo should not disappoint. How does this new Elmo differ from the rest? Your little Elmo lover can squeeze this 13" Elmo plush as hard as they want because this Elmo just loves hugs. He sports a soft tummy, perfect for giving and receiving hugs, and he'll even throw up his arms and ask for a big hug. I mean, who could resist?
When your kids give this cuddly Elmo a sweet embrace, he will respond with some adorable phrases and even sings the hug song in two different languages — English and Spanish. This new Love To Hug Elmo doll is recommended for kids ages 18 months to 4 years old, and will retail at $30 just before the holiday season.
To get the most out of this adorable toy, Elmo needs 2 AA batteries, which are included with your purchase — a major plus. If you're ready to purchase this sweet Elmo doll for your little Sesame Street fan, you'll have to wait a while — this little love bug doesn't come out until the fall of 2019. But it will be available at most major toy retailers nationwide. Just try to pick one up early. With the success of Elmo toys, who knows how long this one will last on the shelves.