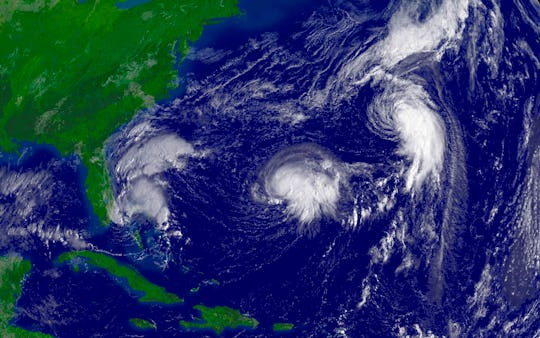 Handout/Getty Images News/Getty Images
This Map Of Hurricane Maria's Path Doesn't Look Promising
Hurricanes Irma and Katia may have passed, but it might still be a while before the Caribbean gets any rest from storms headed its way. In the last few days, yet another hurricane has become a Category 5 storm in the Atlantic, and it's already left several islands in its path pretty battered. It's not set to slow down anytime soon, and this map of Hurricane Maria's path shows that it could affect quite a few people in the next few days.
The hurricane has already made its way over Dominica, where the island's prime minister, Roosevelt Skerrit, said the country had "lost all what money can buy and replace" overnight. "My greatest fear for the morning is ... news of serious physical injury and possible deaths as a result of likely landslides triggered by persistent rains," he wrote on Facebook early Tuesday morning. "Initial reports are of widespread devastation."
As the world waits for further news of damage to Dominica, Hurricane Maria has continued its trajectory northwest, and a hurricane warning went into effect on Tuesday for Guadeloupe, St. Kitts and Nevis, the Leeward Islands, the US and British Virgin Islands, and Puerto Rico, according to CNN. The hurricane is expected to make landfall in Puerto Rico by Tuesday afternoon, and the territory's governor has already declared a state of emergency to try and mobilize supplies.
The National Hurricane Center has also issued tropical storm warnings for the islands of Antigua and Barbuda, Saba and St. Eustatius, St. Maarten, Anguilla, and Martinique, which means that the islands should prepare for tropical storm conditions due to the hurricane's winds and rain.
Several of those same islands have also been given hurricane warnings, since they fall among Maria's projected path. The hurricane warning also extends to northern Dominican Republic, St. Martin, and St. Barts, leaving quite a few Caribbean islands in Maria's path.
Many of the islands now bracing for Hurricane Maria were recently impacted by Irma and Katia, which adds another level of challenge to hurricane preparations. "Our islands are extremely vulnerable right now," Orlando Smith, premier of the British Virgin Islands, told The Guardian recently. Experts are now concerned that debris from the recent hurricanes could be lifted up by Maria winds and essentially become "dangerous projectiles," as Smith put it.
Experts are warning those in vulnerable islands to seek out shelter, stay updated, and be prepared once again — a warning that many might not be heeding following the last string of storms. "Complacency worries me the most," Puerto Rico Gov. Ricardo Rosselló told CNN, according to The Guardian. "People might not understand the magnitude of this hurricane, or might think it won't hit us as hard. All indications are that this is going to be devastating and catastrophic."
After getting through the Caribbean, the hurricane could potentially make its way up to Florida — which has already been hard-hit by past storms this summer, as well — but it's a bit too soon for projections to show any definitive path that way.
"Right now, the latest tracks keep the storm east of Florida, so we might not be directly impacted like we were with Irma," Maria Torres, a National Weather Service forecaster, told Newsweek recently. "We could definitely see higher surf and some rip currents along the [east] coast, but it's really difficult to say because we won't know until it gets closer."
The world will also have to wait and see if Maria weakens after hitting the string of Caribbean islands in its path, since it did initially downsize to a Category 4 after hitting Dominica before building back up to a Category 5. Hopefully its winds will die down once it makes landfall again, keeping the damage wreaked by the hurricane to a minimum.
Watch Romper's new video series, Romper's DoulaDiaries:
Check out the entire Romper's Doula Diaries series and other videos on Facebook and the Bustle app across Apple TV, Roku, and Amazon Fire TV.