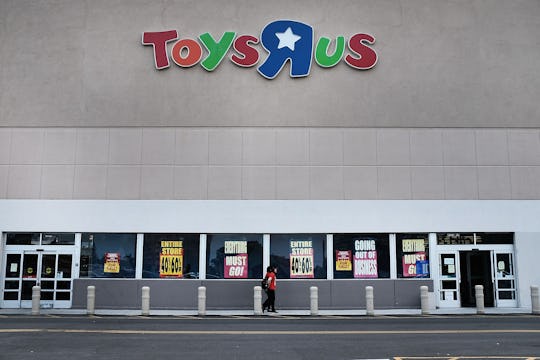 Spencer Platt/Getty Images News/Getty Images
Toys 'R' Us Has One Last Message For Kids & Grown-Ups Everywhere
Were you a Toys 'R' Us kid? I was. My kids were; I have fond/exhausting memories of taking them to Toys 'R' Us to pick out a toy and leaving two hours later, after they painstakingly explored every aisle. Worried they might miss something especially wonderful by rushing. Well, that time is no more. And it's making me oddly emotional. I'm certainly not the only one; this message from Toys 'R' Us on its final day of business is beautiful and nostalgic in a way that might come as a surprise to most people.
The massive toy giant and home to everyone's favorite giraffe mascot, Geoffrey, closed its doors on Friday across the country. After trying in vain for months to stay open, Toys 'R' Us filed for bankruptcy back in September 2017 and had its last day of business in the United States. The final 200 stores that had remained open in recent months closed their doors, leaving more than 30,000 employees without a job. Not to mention all of those empty storefronts, empty shelves... and a flood of memories from people across social media who couldn't help but get emotional to see the end of a pretty spectacular era.
The Toys 'R' Us website has been inactive since March, which is when the company stopped taking online orders in preparation for the end of business. But on Friday, one lone message was shared. And get ready, because it's probably going to wreck you:
Thanks to each of you who shared your amazing journey to (and through) parenthood with us, and to every grandparent, aunt, uncle, brother and sister who's built a couch-cushion rocket ship, made up a hero adventure, or invented something gooey. Promise us just this one thing: Don't ever grow up. Play on!
It was a beautiful, inspirational message. A reminder that play remains important, as the playwright George Bernard Shaw famously once said:
We don't stop playing because we grow old; we grow old because we stop playing.
People were already taking the news of Toys 'R' Us closing pretty hard. After all, Toys 'R' Us has been around for 61 years. Founder Charles Lazarus initially opened a baby furniture shop in Washington, D.C. in 1948 because of the baby boom, and expanded to a toy store in 1957, according to USA Today. Sure, there have been ups and downs, like when the Toys 'R' Us flagship store in Manhattan (the one with the giant Ferris Wheel, which was the biggest toy store in the world) had to close down in 2015 because of a decline in sales.
But somehow, it sort of felt like Toys 'R' Us w ould always be there.
Nope.
As sad as shoppers were to see Toys 'R' Us closing, there were many employees left without jobs. Hopefully some will find work soon, but there's one very special employee who won't be getting another gig in the foreseeable future. Geoffrey the Giraffe. Seen here toting a suitcase and waving goodbye.
The good news is, there are still people out there who are doing wonderful things. Like an anonymous person in North Carolina who bought $1 million worth of toys at the store in Raleigh before it closed to donate to local children, according to Mashable. I bet this person was a Toys 'R' Us kid.
Kids will continue to play and parents will continue to buy them toys, of course. But never again will there be an actual Toys 'R' Us kid. And boy, does this ever make me feel like bawling my eyes out.