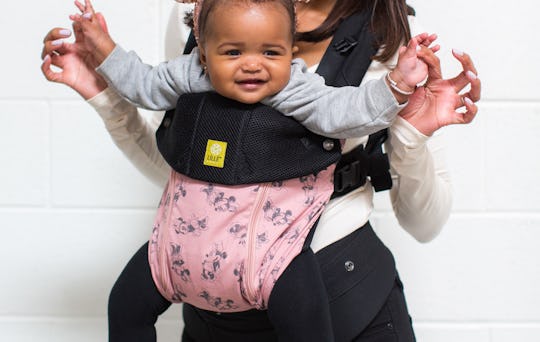 Courtesy of LILLEbaby
New Moms Who Love Disney *Need* This Ridiculously Cute Minnie Mouse Baby Carrier
There's nothing like having a baby to make you suddenly incredibly nostalgic for all the stuff you were into as a kid, which is why it's so hard to pass up clothes and gear for your little one that are printed with beloved characters from your own childhood. It's also why you're going to adore the new collaboration from LÍLLÉbaby and Disney, which features an adorable Minnie Mouse baby carrier that's pretty much impossible to look at without smiling. So where can you snag one, like right now?
If you're not familiar with LÍLLÉbaby products, a little background: Known for creating products that are both super functional and stylish, the Scandinavian-based company's award-winning COMPLETE carrier can be used in six different positions and is safe to use from birth through the toddler years (7 pounds to 45 pounds). Fans of the brand swear by the carrier's comfort and versatility, particularly in situations that call for breastfeeding And while this isn't the first time LÍLLÉbaby has teamed up with Disney (they already offer carriers printed with Mickey Mouse and the characters from The Incredibles 2), the Minnie Mouse carriers just debuted this week and they seriously could not be cuter.
The silhouette pattern is hand-sketched on pink fabric, so the line has more of an artsy aesthetic than a straight-up cartoon vibe. Check out the LÍLLÉbaby COMPLETE All Seasons ($170, LÍLLÉbaby):
So sweet! (The Minnie ears are a must, of course.) Offering six carrying positions and featuring a hood, zippered pocket, lumbar support, neck support, and two-way straps, the COMPLETE is made from 100 percent cotton and Breathable 3D mesh (and it's machine washable, too).
Similar to the COMPLETE All Seasons but with extra pockets and a mesh front panel that makes it perfect for hot weather wearing, the COMPLETE Airflow ($150, LÍLLÉbaby) benefits from a Minnie makeover, too:
And if you've got an older kid in the house who's sure to be jealous of your new Minnie-themed accessory, it might not be a bad idea to pick up a Doll Carrier ($35, LÍLLÉbaby) as an older sibling gift:
Irresistible. And while they're not exactly cheap, with over 1,000 positive reviews on Amazon, these carriers are definitely worth every penny (especially since they'll last for your kid's entire early childhood).
"My favorite carrier EVER!" wrote one reviewer, adding: "Beyond comfortable and versatile. My baby sleeps in it all the time and I'm able to nurse whenever I want and do so discretely."
"Tried it immediately and loved it immediately!!" wrote another happy customer. I was impressed with how soft it was. I wasn't expecting it to be soft. It's very sturdy and well made."
Parents also appreciated how easy the LÍLLÉbaby is to adjust and how, unlike some other carriers, it doesn't take a long time to figure out how to use. As a mother of three who's tried more carriers over the years than I can even remember, I agree that ease of adjustability and use are two huge advantages. (And if you've ever tried to origami an infant into a contraption with several dozen straps while simultaneously making sure his head is supported and there's actually room for him to breathe, you know what I mean.) If only I'd known about the LÍLLÉbaby with my last baby! Alas, I made due with an old-school sling, which probably left me with lasting shoulder damage but wasn't as complicated to wear as some of the more ergonomically correct carriers on the market.
Basically, this would be a great carrier to get even if it wasn't pink with a crazy cute Minnie Mouse pattern all over it. (But it is, so you don't just want one... you need one.)