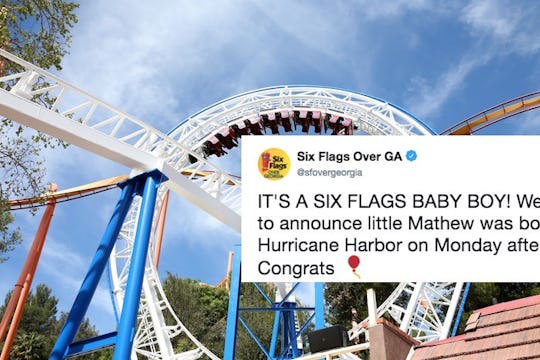 Jonathan Leibson/Getty Images Entertainment/Getty Images
A Mom Gave Birth At Six Flags & The Park Celebrated In The Most Incredible Way
I gave birth at a hospital, it was all very vanilla. I got one bland meal, I think, before I was sent packing. The baby part was exciting, but the delivery was pretty much like most people's delivery. Not like this mom who gave birth at Six Flags. She's got a great conversation starter for every party until the end of forever.
So let me set the scene for you; it's a hot day in July in Georgia on Monday. A mom who has only been identified as Crusita, took her daughter to Six Flags Over Georgia to spend a little time at the water park Hurricane Harbor, according to INSIDER. I feel like that must have been amazing, especially considering how much hotter it seems when you're at the end of your pregnancy. A brilliant idea, in my opinion.
Only some things happened, rather unexpectedly. Crusita went into labor unexpectedly, according to Fox 5 Atlanta, and it seems that things escalated quickly. Because EMTs had to be called to the park, according to Fox 5 Atlanta, where Crusita delivered a healthy baby boy. She named him Matthew, according to Newsweek, which brings me joy because I was worried she might go all Six Flags theme-y on the name on account of his unique birth story. Honestly, I would have been tempted.
As if it wasn't incredible enough that little Matthew was born at a Six Flags theme park, there was an added bonus beyond having a cool story to tell when he eventually goes to school some day. Considering Matthew is only the second baby to ever be born at Six Flags Over Georgia in the past 51 years, according to Business Insider, he and his mom were given Diamond Elite memberships. This means they get to visit any Six Flags park they want for the rest of their lives for free.
"All of us at Six Flags Over Georgia wish Crusita, Mathew and their entire family a lifetime of happiness, health and many thrilling roller coaster rides together," a Six Flags spokesperson told People.
The only possible fly in this particular ointment would be if Matthew grows up to have a crushing distaste for rollercoasters and theme parks. But I'm sure that won't happen, so everyone just relax.
I'm starting to think this could be a new trend, having babies in weird places to get neat stuff. Robert Griffin and his wife Maggie made news earlier this month when Maggie gave birth to their daughter in a Chik-Fil-A when they were on their way to University Hospital in San Antonio. As Griffin explained in a Facebook post about the event, according to People, the two were meeting friends at Chik-Fil-A who were meant to care for their daughters while they were delivering their baby. They didn't make it past the restroom, where Griffin delivered baby Gracelyn Mae Violet Griffin on July 18, according to People.
And guess what, guys? The family gets free food for life from Chik-Fil-A, according to KENS5.
So I guess this is a thing that will be happening forever now.
I wonder how many people will start surreptitiously scouting out some of their favorite stores when they know they're getting close to their due date? Honestly, if I could go back in time I would consider hitting up a car dealership or something.
Just kidding, I guess.
Seriously though, I'm pretty happy for both of these families. When a baby comes unexpectedly like that, I'm sure it must be terribly stressful. Thankfully it all worked out for them.
Plus now they got all the rollercoaster rides and delicious take-out food they want. It's a win-win.