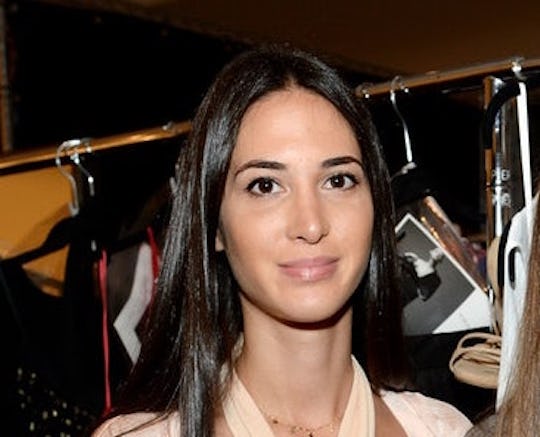 Ben Gabbe/Getty Images Entertainment/Getty Images
This Mom Responds To People Shaming The Size Of Her Bump, But She Shouldn't Have To
Here's a bit of breaking news for everyone; every single pregnancy on this planet is different. Every pregnant woman craves different foods, feels ill/not ill/blissful/not at all blissful in her own way. And every bump looks different, too. Nobody gets to judge, even though there are plenty of people out there who seem to really want to make assumptions, especially when it comes to pregnancy. So when this mom responded to body-shamers over her pregnancy bump, it was a powerful reminder to keep the judgment on simmer — and to remember that people rarely know the whole story.
Australian fashion designer Yiota Kouzoukas took to Instagram on Oct. 9 to address what was apparently a pressing issue for her followers. No, not the amazing clothing she designs as the co-owner of Soba Skirts. But the fact that her pregnancy bump was too tiny for a woman who was six months pregnant. Kouzoukas wrote on Instagram:
I receive a lot of DMs and comments regarding the size of my bump, which is why I want to explain a few things about my body. Not that I'm upset/affected by these comments at all, but more for the reason of educating in the hope that some people are less judgmental on others and even themselves.
The 29-year-old went on to explain that she suffers from a retroverted or tilted uterus.
For the first 4 months of my pregnancy, my uterus was retroverted/tilted which means that I was growing backwards into my body rather than outwards. Most people with this type of uterus tilt forward at around 12 weeks and continue growing outwards like you normally would. My uterus didn't "flip forward" until well into being 4 months pregnant because of the backwards tilted position paired with decade old endometriosis scarring that I have on my uterosacral ligaments.
Her past struggle with endometriosis — a painful condition which causes tissue that normally lines the inside of the uterus to grow outside the uterus, according to the Mayo Clinic — has caused severe scarring. And, as she explained, these uterosacral ligaments were anchoring her uterus deep within her body.
In this Instagram post that followed Kouzoukas' progress, she explained that her "placenta is growing at the back" of her uterus. According to OB-GYN Dr. Mary Jane Minkin of Yale School of Medicine, a tilted uterus is more common than some might believe. She told Woman's Health:
About 30 percent of women have a uterus which is tilted towards the back, and it is seldom a problem during pregnancy. As the uterus grows, it almost always starts tilting forward.
Now that Kouzoukas has reached six months in her pregnancy, she noted on Instagram that she is "growing forwards just like everyone else while the scarring on my ligaments slowly breaks down."
"I'm perfectly healthy, baby is perfectly healthy and that's all that matters," she finished her post. "Our bodies and bumps are all different and our shapes and sizes are all different too."
Kouzoukas' Instagram followers were enthusiastic in their praise and support for her, with some comments noting they had been "bump-shamed" themselves. "After a recent loss, I learned my uterus is tilted too. I had no idea it can tilt forward after awhile!" one follower commented.
While Kousoukas didn't owe anyone an explanation, the fact that she was willing to share her story can get a conversation started — about endometriosis, about tilted uterus issues... and about allowing people to be different without judgment. Well done.
Watch Romper's new video series, Romper's Doula Diaries:
Check out the entire Romper's Doula Diaries series and other videos on Facebook and the Bustle app across Apple TV, Roku, and Amazon Fire TV.