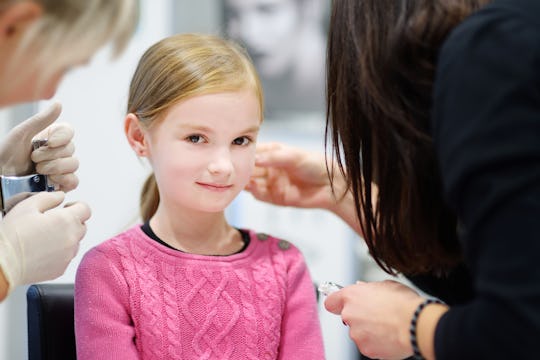 Fotolia
This Mom Is Furious After Her Daughter's Ear Piercing Landed Her In The Hospital
If you've ever had an infected ear piercing you know from experience; it can be surprisingly painful. After I had my ears pierced at 12 at the local mall, my ears got infected really quickly and it was horrendous. My entire ear was red and throbbing, and trying to get my earring out of was not exactly fun. Of course, when my ear piercing got infected the blame rested entirely on my shoulders. This was not the case for a young girl in England, and I don't blame her mom for being upset. This mom wants new ear-piercing guidelines for at-home care after her 7-year-old was hospitalized for an infection, and she's blaming Claire's Accessories for the situation.
According to The Sun, Suzie Nesbit took her 7-year-old daughter Lily to get her ears pierced for the first time at a Claire's Accessories shop in Harlow, Essex County. The mother of three told the news outlet that she was given instructions by the store to keep the new earrings in for three weeks and to clean the earlobe with their special ear care solution before trying to remove it. She did exactly that, as she told the news outlet, but couldn't get the earring out of her daughter's ear. She assumed the butterfly clasp at the back of the earring might have come loose, but in face the situation was considerably more dire than that.
Romper has reached out to Claire's Accessories for comment and is awaiting a reply.
A few weeks after Lily's ears were pierced, Suzie told Fempositive that a nursing friend came over to have a look at the little girl's ear and made a horrifying discovery; the butterfly wasn't lost but was deeply embedded in her skin. As Suzie told the website:
We didn't think it was possible for the back to get stuck in her ear due to the size of it and searched her bed to try and find it. I couldn't push the earring back or forwards, it was absolutely horrible.
She rushed her daughter to The Princess Alexandra Hospital's A&E department in Harlow, where emergency room staff reportedly needed to use a scalpel to remove the embedded butterfly clasp from the little girl's ear. Lily had to be put under local anesthetic to dig the earring out, and Suzie told The Daily Mail it was an excruciating experience for her daughter:
Those 20 minutes felt like four hours, it was so traumatizing for us all.When the needle went into her ear it obviously really hurt her as it was so sensitive, and she screamed out. She was then properly crying too, it was horrendous.When the anesthetic kicked in the nurse got the scalpel and had to re-open the wound and pop it out. It was horrific watching her go through such agony.
In the wake of this upsetting incident, Suzie wants Claire's to reconsider their guidelines for ear piercing care. She believes that three weeks is simply too quick for the wound to heal properly, and also has concerns about the ear care solution the company sells.
Claire's is one of the more popular places for people to have their ears pierced because of their lower prices and their convenient locations (usually in malls). The company issued a statement defending the three week recovery period and their cleaning solution to Fempositive, writing:
Our piercing procedure and all of our piercing instruments, supplies and earrings are designed to promote the safest and most hygienic piercing experience.The rapid after care lotion is a dermatologist and pediatrician tested for the effective care of the pierced ear. Three weeks of use is an appropriate and approved length of time.The Rapid lotion is safe, and allergy tested, and its soothing formula is skin friendly. If undue pain/ swelling/redness occurs at any time, seek medical advice immediately. Do not remove studs before the relevant medical advice.
It might be a good idea for parents to take extra time with their kids' pierced ears, just to be on the safe side. If taking an extra week to make sure the wound has properly healed can save your child the pain of an infected piercing... it's all to the good.