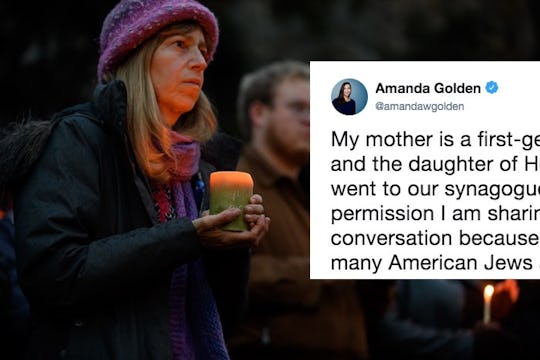 Jeff Swensen/Getty Images News/Getty Images/ Amanda Golden/ Twitter
This Mom's Text To Her Daughter Captures What Many "American Jews Are Feeling Right Now"
On Saturday, Oct. 27, a gunman opened fired at the Tree of Life synagogue in Pittsburgh, Pennsylvania, killing 11 people and wounding six others, according to CNN. The fatal mass shooting has not only shaken the people of Pittsburgh and Americans across the nation, but the Jewish community at large. And this mom's text to her daughter about what "American Jews are feeling right now" has captured the intersection of trauma and courage often felt by survivors in the aftermath of unspeakable tragedy.
Amanda Golden, a producer for CNN and Jake Tapper's show, The Lead, took to Twitter on Sunday evening to share a series of texts sent to her by her mother following the deadly attack on Tree of Life over the weekend, as CNN reported. Among the victims of the mass shooting in Pittsburgh were a pair of brothers, two married couples, and a doctor, according to TIME.
"My mother is a first-generation American, and the daughter of Holocaust survivors," Golden wrote on Twitter, along with screenshots of their conversation, which she shared with her mother's blessing. "She went to our synagogue today. With her permission I am sharing some of our conversation because I think it captures what many American Jews are feeling right now."
CNN reported that Golden's mother attended an interfaith vigil at a reform synagogue in San Francisco on Sunday. Members of the Jewish community, as well as Muslims, Christians, Buddhists, and nonreligious people, attended the service at Temple Emanu-El, where they sang and honored the victims of the Tree of Life mass shooting, according to SF Gate.
Following the service, Golden's mother sent her a string of texts explaining her reaction to the attack, which, according to NPR, is being investigated as a hate crime. Her mother wrote, in part, according to Golden's tweet:
We all felt the same thing: how glad we were that our parents weren't alive to see this happen in America; how we always felt safe as Jews living in the US and going to services, and how we must be the voices for our parents to make change and hold those who incite hatred accountable. The hard part of this is knowing it can happen anywhere anytime. So we feel vulnerable in new ways.
Golden's mother continued in her text:
I often feel it is my sacred duty to be a better person because of the ugliness that some people exhibit. And...I have always been inspired by my [parents'] strength. They looked forward.... so if they could do that surely I can.
Golden's tweet received nearly 300 replies and more than 3,500 retweets since it was posted on Sunday. Most people responding to the CNN producer's post agreed that her mother's words capture how they or their loved ones are feeling. Many even spoke about their own relatives who have survived the Holocaust.
On Saturday, the Anti-Defamation League released a statement calling the fatal incident at Tree of Life "the deadliest attack on the Jewish community in the history of the United States." The mass shooting, the organization continued, also comes at a time when the country is experiencing a significant rise in anti-Semitic attacks. The ADL said in its statement:
It is simply unconscionable for Jews to be targeted during worship on a Sabbath morning, and unthinkable that it would happen in the United States of America in this day and age.
The text from Golden's mother is a perfect example of the pain that survivors, and communities at large, feel after experiencing mass violence. But it also shows the bravery they feel moving forward, and the refusal to let hate destroy humanity.