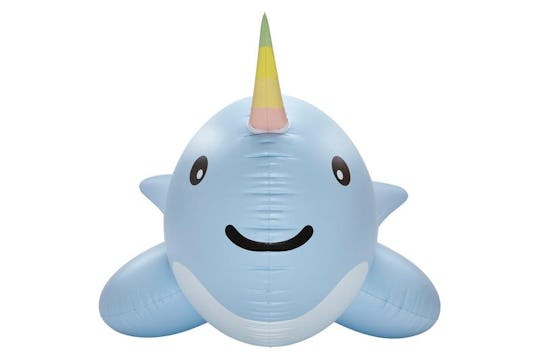 KOLOLO
This Narwhal Float Is The Latest Magical Pool Float You *Need* This Summer
Now that summer is officially on its way (it was nice of you to stop by for a minute, spring), everyone's thinking about water, pools, and the beach. Which, naturally, means you need some water accessories. And unless you've been living under a rock (where there's no water I'm guessing), you've probably noticed the trend of pool floats in the shape of everything from pineapples to unicorns. But my friends, there is now a narwhal pool float, and it's the latest magical creature you have to add to your pool party.
I know, I know. Is there going to be anywhere left to swim? Look, take my advice and toss the pizza float for the day. A narwhal is an actual water creature and they deserve to float along merrily as you soak up some sun and take Instagram pictures. KOLOLO is the brand responsible for the ridiculously fun and adorable narwhal float, and it's part of their "magical collection," which also includes several different unicorn floats. Apparently the brand is a favorite of the Kardashians, but don't let that intimidate you. The narwhal float, whose measurements are 78 inches by 43 inches by 40 inches, is only $59. I mean, it's the unicorn of the sea. Of course the price had to be magical, too.
(Also, if you aren't saying, "Thanks, Mr. Narwhal" in a Buddy the Elf voice every time you see a picture of this float, then what are you even doing with your life?)
The KOLOLO website asks if you'll be able to gain this magical creature's trust, and you know what, I think you can. It's also super easy for the narwhal float to gain your trust. It's super easy to inflate and takes less than five minutes with its double valve to be pumped to its majestic size. You can do it with a traditional air pump or even a hairdryer set to cool.
But if you're worried about carting it home from the beach, no worries. It's also super easy to deflate. Just pull the plug and let the narwhal shrink to its packaged size so you can get it home safely. (That means you don't have to jump on it to try to push all the air out either, which is a major plus, my friend.)
Bonus points: There's also a repair patch included just in case your narwhal suffers an injury, and the product is actually made with a non-phthalate soft touch vinyl so that you can float away, free of toxins. In fact, all of KOLOLO's floats seem to be made of the same material, so if you're looking into one of these magical beauties for you or your kiddos, know that you can choose a safe one.
Other than being cute, there's a real reason why you should choose a narwhal float. According to National Geographic, narwhals are not only the unicorns of the sea, but they are also actually pale-colored porpoises found in arctic coastal waters. How dreamy is that? They're related to dolphins and, unfortunately, they are often hunted for their tusks and skin. But Smithsonian magazine noted that they can also be incredibly hard to spot in the water, so rejoice in the fact that you can share the joy of narwhals with your own pool float this summer.
Seriously, I kind of just want one to lay on in my backyard when we're not swimming.
Check out Romper's new video series, Bearing The Motherload, where disagreeing parents from different sides of an issue sit down with a mediator and talk about how to support (and not judge) each other's parenting perspectives. New episodes air Mondays on Facebook.