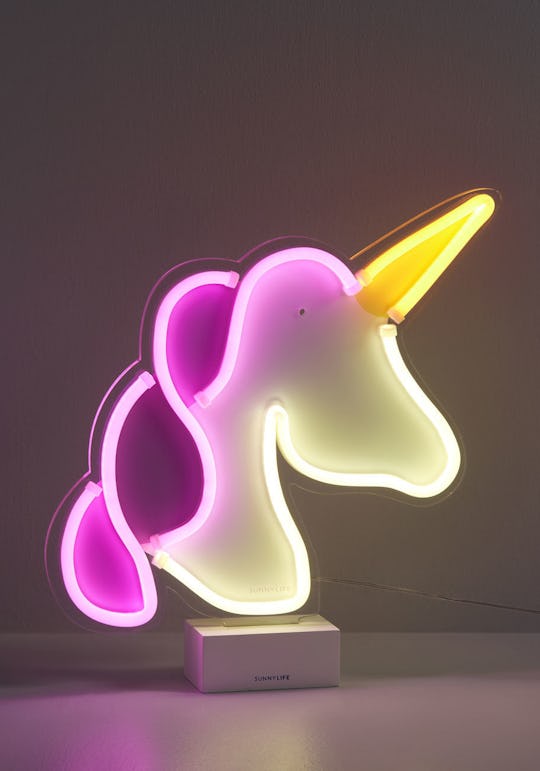 Modcloth
Hi Hello, How Extra Is This *Neon* Unicorn Nightlight? My Kid Would Like 10, TYSM
Nightlights have come a long way since the days of those little plastic wall outlets that plugged in right up against the wall in all kinds of shapes and characters. You couldn't always seem them from your bed, but somehow they always managed to give off just enough light for your bedroom to be not be too scary. But the days of those Spice Girls wall flowers are over. Now there are nightlights that not only can you see from your bed to give off just the right amount of light but they're also majestic. Seriously, this neon unicorn nightlight will brighten up any room in the most magical way. If you or someone you know is a unicorn enthusiast, you need to check out this whimsical lamp as soon as possible.
Looking to add some sparkly magic to one of your rooms? This neon light is the perfect way to do just that. With glowing yellow, purple and white light, this lamp will be the perfect addition to create a fun, happy ambience that you and your family will love while still bringing in some major magic into your home. For starters, this unicorn is just fab — look at it, flaunting that brilliant flowing mane while it blissfully illuminates every room it graces.
You can find this lamp on ModCloth, an awesome online store that sells all kinds of quirky knickknacks and uniquely styled clothes, shoes, accessories and of course, home decor like magical unicorn lamps. This neon table lamp is made of glass and plastic and will fit on most flat surfaces because it only measures 2.5 inches wide at the base. The beautiful unicorn itself measures 13.75 inches long and 12.5 inches high. The compatible USB adapter is included with your purchase, so don't worry about looking through that drawer full of random USBs that you've been avoiding because you have no idea what they belong to.
So if you're in the market for a new nightlight that doubles as a totally cool mom-cave lamp, you need to get your order in quick because this baby already has over a thousand "likes" on the ModCloth website, making it as coveted as any miscellaneous Little Mermaid paraphernalia circa 1989 — well, almost. But seriously, not only this lamp can help create the perfect aesthetic to any room, you will totally gain mom points when you tell your little one about its magical monster repellant powers. If you've had a little sleepy wanderer crawling into your bed because of nightmares, this lamp may spark some encouragement to stay in bed with its hypnotic glow. So put in your order before these go out of stock — which always happens when you wait, doesn't it? You and your little one could be resting more peacefully as soon as you plug it in. Not every lamp will serve as the perfect majestic piece of home decor as well as scare away any monsters that may be hiding under the bed or in the closet.