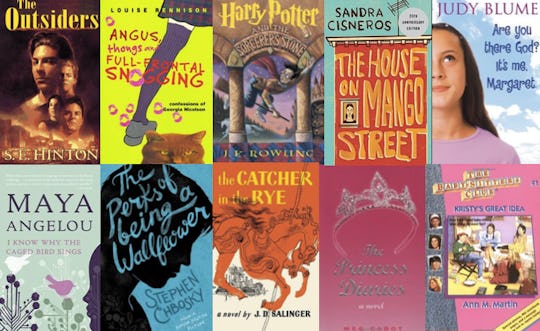 This Nostalgic Summer Reading List From Goodreads Will Give You *All* The Feels
For me, summertime was the greatest, because not only could I run around outside in my bare feet and ride my bike to the neighbor's houses and jump on the trampoline until it got dark, but when I wasn't doing that, I was sitting on my favorite hill at my house reading everything I could get my hands on while basking in the sunshine. Goodreads gave Romper an exclusive nostalgic summer reading books list that will 100 percent for sure give you all the feels. Anyone else already being reminded of reading all summer and late into the night under the blankets with a flashlight until you thought your eyes would bug out? Same.
As a child of the '80s and '90s, of course I was reading all the Baby-Sitters Club, Nancy Drew, Boxcar Children, Harriet the Spy, Matilda, and Goosebumps books so I could talk about them with my friends when school started again. And as I got older, my love for summer reading didn't end, and I loved all of the coming-of-age stories that were around back then — even those that were coming-of-age stories back when my parents were angsty teens. Teen angst never seems to change does it?
These books saved our lives back then and made us feel like we weren't alone in our angst and they validated our feelings. Someone got us — even if it was a fictional character in a novel. But at the very least, the author seemed to understand what we were going through, and that definitely accounted for something — especially in the summer. So even if it has to be between nap times or even late at night after the kids are asleep, at least one of these nostalgic summer reads should be on your nightstand to devour. Remember why Holden Caulfield; Charlie; Maya; Margaret; Mia; Esperanza; or Claudia, Kristy, Stacy, and Mary Anne really spoke to you, and how it felt like they were the only people in the world who did.