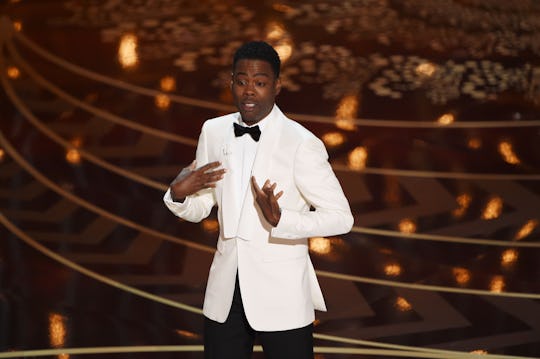 MARK RALSTON/AFP/Getty Images
This One Chris Rock Joke Illustrates The Main Issue With The Oscars
Chris Rock is hosting the 88th Academy Awards tonight. And we've all been waiting with bated breath to see what he might make of the Great White Problem. Or if he would make anything of it at all. On a night that's meant to be a collective congratulatory pat-on-the-backless gown sort of event, would Rock take the hard road or play it safe? It wasn't much of a question, if you ask me. Or if you've ever watched any of his stand-up. It wasn't really an "if" but a "when" situation, and in true Chris Rock fashion, he managed to find one joke to eloquently illustrate the issue.
"Is Hollywood racist? Yeah, it's the racism you grow accustomed to," Rock quipped. "Hollywood is sorority racist. 'We like you, Rhonda... but you're not a Kappa.'"
The room handled the joke as expected — uncomfortable murmurs mixed with hysterical laughter from those who really understood. Taking jabs at the polite, benign racism in Hollywood was important. As was saying it on such a public stage.
It was edgy but a necessary comment on the #OscarsSoWhite controversy, which has dominated the Oscars conversation for some time. We were all waiting for Rock, a no-bullshit comedian from way back, to bring it on home tonight. It probably felt like a brilliant idea to have Rock host the Oscars, despite his rocky track record.
When Rock hosted the Oscars in 2005, his opening monologue was met with mixed reviews, especially from stars who take themselves too seriously. But this year, it's like the producers were saying, "See? We're all about diversity! We might not have one single actor of color nominated this year and our Honorary Oscar recipient Spike Lee might have decided to boycott the Academy Awards but... look! Chris Rock! It's fine!" ... Even though this is what our Oscars class photo looks like this year:
All of this would have been a lot of pressure any host, I think. You want to please your boss, you don't want to ruffle any feathers. You want to keep everyone happy. But not Chris Rock.
So here we are, the Big Night. And everywhere it's caucasian men and women in stiff formal wear awkwardly squirming in their plush Oscar seats, smiling like they were in on the joke (when, in the backs of their minds, they sort of knew they were the joke), wondering if they are allowed to laugh at the jokes — which is exactly the problem. The applause as the jokes got tougher got a little more tentative.
Then, Rock cracked his joke and pointed that out to them, in case they were still confused. Social media immediately went wild with support:
I don't know if Rock will get to host the Academy Awards again anytime soon, but all I've got to say is: Mic drop. Boom. We know who wins the internet tonight.